Just One of Them Days
I just had a horrible day, work-wise. It was mostly caused by my temporarily taking over the webmaster position until I hire one, meaning I'm performing 3 jobs instead of my usual 2. However, what pushed it over the cliff was stupid Microsoft. Microsoft and its Service Pack 2. I was running after system administrators and working on 3 laptops to test the latest patches for my systems to be compliant with Mr. Gates' latest Service Pack.

patch (n.) Also called a service patch, a fix to a program bug. A patch is an actual piece of object code that is inserted into (patched into) an executable program. Patches typically are available as downloads over the Internet.

I need to get that jacuzzi I've been eyeing for sometime now soon. I would give my left shoe to be able to soak into a nice, jet-filled hot tub right now. I just had one of them days.

But I'm not taking it personal (sic).
I Didn't Get the Memo on Casual Sundays
I don't like going to church in the evenings. Since I had an appointment with the house developers all morning yesterday, I had no choice but to attend the 6 pm mass. Which is my least favorite time to go to mass. Here's why.

Somehow, at least in our area, the people who attend the evening mass seem to be more casual and less solemn than the early goers. Last night, two pews in front of us sat two families whose teenaged children were all wearing shorts. Shorts. Call me old-fashioned but I believe this is very inappropriate for church. I used to not see why my father made a big deal of men wearing shorts to church. Now I feel exactly the same way he did.

Meanwhile, the moms of these families were wearing these short dresses that looked like tennis outfits. I don't think they came from a tennis match, but from whatever sport their kids played that afternoon. About ten minutes into the mass, another family with kids piled into the pew in front of these two families, and moments later the mom in this family turned around, realized she knew the families behind her, and they all started giving each other air kisses. In the middle of the frickin' mass!

They weren't the only culprits in my book. As I looked around, I saw a girl wearing a negligee-looking camisole, a guy who was in a tank top, an older lady in oh-so-tight white leggings and a smattering of more people in shorts - from skimpy, sporty ones to mumsy, bermuda types.

As you may have noticed, I get distracted easily. The attire, the lack of sobriety, the lackaidaisical attitude - they all bothered me. It seems that the evening mass is attended by two types of people:
1. those who really prefer ending their weekend with a blessing (I'd say about 30%)
and
2. those who were so busy with all their activities they just barely had time to squeeze church in at the end of the day (the rest of the flock)

I admit I belonged to the latter category yesterday. However, I dress up for every mass, morning or evening hour, hot or cold weather, and try to pay attention and internalize the scripture as much as I can. I say "try" because it's really hard with the evening crowd. Just in front of us was this couple who were stroking each other. It may not be malicious - the guy's arm was around the girl's waist, and the girl had her arm to her back caressing the guy's arm - but it was so wrong! It affected me so much I almost said something to them. I know hubby would disown me if I did so.

In contrast, the morning crowd consists of families who dress up specifically for church, arrive early and give their full attention to the priest. There are always the bored kids with happy feet or the agitated toddler who starts to cry, but their parents are quick to put them in their place with a stern look, a gentle tug or even taking them outside for a few minutes. Everyone's lively [albeit some are already thinking about the family lunch after the mass] and even the singing is resonant. Although last night's mass had a choir complete with an organist and drummer, the singing was not as fully participated as the early masses (or maybe I was just really blase at this point). Anyway, I was glad when mass was over.

I can't wait to go back to Formal Sundays.
The Calm Before the Storm
Life is going well for me these past months. Very well. It's not perfect - I'm still not getting pregnant, my webmaster just quit, I'm gaining weight - but in general everything has been smooth and cheery.

Which scares the bejeezus out of me.

My natural pessimist nature makes me think that something bad will happen soon, because life can't be this good forever. I can't complain. I am so in love with my husband and notice every little thing he does that I normally would've taken for granted. My sson and I are getting along splendidly. We've always gotten along well, but recently, we've become really close and miss each other when apart. My mom's with me and we get to laugh and shop and talk all the time. Work is almost on auto-pilot, the only wrinkle being the webmaster's leaving. I even have a great investment opportunity in the horizon.

So why is there a deep anxiety in the pit of my stomach?

I've been this way as long as I can remember. It's not so bad until I become conscious of the fact. Once in a while, I stop and think "things are going great, what's about to break?" Unfortunately, something does break, which validates this misanthropy further.

Why can't I just enjoy all my blessings and leave it at that?
What Am I Worth To Ya?
I had a job interview this morning with a fast-growing private Financial Investment firm. I have been stressing out the past couple of days (and neglecting this blog) due to this. It's not that I badly need this job. In fact, I am not actively looking for one. This opportunity came around unexpectedly.

Our company web developer, who reports to me, just quit and his new company wants to hire me. Apparently the CIO and a senior software engineer from that company have attended a User Group I hosted several months back and were impressed with my presentation. I don't remember their company nor their persons so I felt bad when I couldn't say something witty to them during the interview. They don't even have a concrete opening for me, they brought me in to interview for a DBA position and in the end they realized I am more of a developer and project manager so they said they will create a position for me. Wow, that must have been some presentation I did.

Why stress out then?
1. I haven't interviewed in over ten years.
2. I feel that my skill set is not a great fit for their requirements.
3. This job might turn out to be too good to pass up, and I will have to, gosh, quit.

I hate change. I am a creature of habit. On top of that, I tend to be obsessive-compulsive about things and once a routine is broken, I feel lost and discombobulated.

The reason I even gave this interview a try is to go through the experience, learn what I'm worth in the job market, have a security blanket that in case my current employment goes south - I will know how to go about selling myself. Since there are many factors going against this new opportunity (e.g. long commute, crowded work environment, all the hassles of a new job, etc.) I gave them a very high amount for my desired salary, $30K more than what I'm making now. I can't believe they were still willing to bring me in for an interview.

Now, after the interview, I'm sure I wouldn't want to work there. It's equal parts I didn't like the new place and I do like my current job. No, wait, I LOVE my current job. And you can't put a price on that. That's one of the realizations I had on my 45-minute drive back. If only for that, the stressing out over the interview was well worth it.

Do you love change, or resist it will all your being?



Universal Appeal
Last Monday, my hubby, s-son and I bundled into my car at 5:00 in the morning and headed off to Universal Studios in Hollywood. It was sort of a spur-of-the-moment thing, only decided on a couple of days before. I was feeling guilty for not having taken s-son anywhere this summer, so I sprang for an annual pass for the three of us and combed the internet for a good place to stay.
Now I don't know why I got annual passes, especially since Universal Studios is a visit-once-in-your-lifetime kind of place, a comparatively small amusement park where you can see all the attractions in a day. I guess I wanted s-son to get a vacation out of it, plus I didn't want hubby to have to drive eight hours in one day. Imagine my remorse when, after having bought the pricey annual passes, I discovered that the hotel I booked for the night offered a second day at Universal for free! Argh!
Why Universal? I've sworn off Disney after one visit (with hours of it spent on lines to attractions). I knew I couldn't convince my family to go to Rodeo Drive, Sunset Drive or even NBC studios in Burbank to watch a taping of a show. So it was Universal for two days for our troop. Which was just fine with me.
I've always liked Universal Studios. My first visit there was with
ex-boyfriend #2
, and I had the best time! I was in love so everywhere we went was magical for me. Hmmm, on second thought, we also went to Disney on that trip and didn't care for it, so it must really be the place. The second time I was with three of my GWOSA friends and my friend Ulyie, and we also had fun. What added to the joy was we haven't seen the others in years and we all surprised each other such that two of the girls had no idea they would be seeing the rest of us. The third time was when I took my good friend Jenny and two visitors from the Philippines, and,
all together now
, we had a great time. I even won a gigantic Tweety Bird from the quarter toss game in the arcade. The fourth time was when I took my husband there for his birthday because, much to my shock, I found out that he has never been! Yes, we had so much fun. Which leads me to this, my fifth time, with my small family, and as I expected, we had a great time.
Understandably, Universal has updated some of their attractions throughout the years, but I've only noticed the most changes in this last visit. They've replaced the E.T. ride (which was one of my favorites, sniff) with the Mummy ride, which was just a regular roller coaster that took you forward and backward at breakneck speed. The thing that made it exciting was it was pitch black, so you'll never know what to expect. But the absence of dips was very disappointing. They've added new sights and trivia to the Studio Tour, like Whoville from the Grinch, or the stairs Jim Carrey rushed the dog from in Bruce Almighty. However, the trivia, albeit updated to appeal to the newer audience, sounded too familiar it smelled fishy... Jim Carrey rushing to the tram in full Psycho regalia, stabbing passengers with a rubber knife? Wasn't that role filled by Steve Martin a few years back? Or was I getting my comedians mixed up? In any case, I internally sulk at my bad luck of not seeing any actual movie stars whenever I'm in the studio lot.
A Van Helsing haunted house has been added, which was a major disappointment (if you're planning a visit there soon, do yourself a favor and skip this). They've abandoned Back to the Future and the Alfred Hitchcock movies in the Special Effects attraction in favor of the Nutty Professor, Van Helsing and The Mummy, which was just fine. The hosts were funnier this time around too. A new attraction, Shrek 4D, has been added and has become an instant favorite with everyone. Thank heavens the ever-reliable Jurassic Park, Terminator 2 3D, Back to the Future and Waterworld attractions were still around.
My s-son's favorite though was the Nickelodeon Blast Zone and the Wild Thornberry Temple Adventure, which basically consisted of shooting rubber balls at other kids (and some poor, unsuspecting adults). I'm still amazed how kids can spend hours shooting water guns and not get tired of getting wet. I joked to my husband we should've just poured buckets on s-son all day and saved the money. The only attraction we intentionally skipped was Spiderman Rocks, the Musical. Tell me you will see something called
that
!
While s-son gleefully played at Nickelodeon, hubby and I watched the Blues Brothers show, which I surprisingly have never seen before. We also played arcade games at the Flintstones area, where I won a medium Donkey and he won a huge Siberian Husky, after my persistent begging. You see, I LOVE winning stuffed toys at arcade games. I don't know why but I never outgrew this passion of collecting these creatures, which can get really expensive sometimes. I know it's stupid to keep throwing money when you're not winning, but the gambler in me kicks in thinking,
I'll get it this time
. If there ever was an Arcade Game Stuffed Animals Anonymous, I should be a member. "Hi, my name is Vangie, and I'm addicted to arcade game stuffed animals." I should feel bad beating seven little kids for Donkey in the water squirt game, but I don't.
Another habit I haven't outgrown, to my husband's consternation, is constantly looking for a good photo op. I had my picture taken with Shrek (on two occasions!), Donkey, Spiderman and the Fast and the Furious car while 9-year-old s-son wouldn't get caught dead with them. I think it's the combination of the Filipino and the vanity in me.
So, after two full and fun-filled days at Universal, we hauled our tired bodies to the car and headed home. We made a pit stop at the Gilroy outlets, where we nicely capped a happy short vacation with a shopping spree at Banana Republic (for me) and Billabong (for hubby and s-son).
Thank you, Universal Studios, for the many wonderful memories and great photo opportunities!
What's your Universal Studios?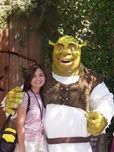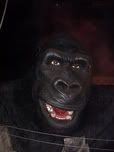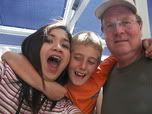 Movin' On
Last night, my husband and I went to the Golden Gate Theater to see Movin' Out, a musical based on Billy Joel's songs and choreographed by the marvelous Twyla Tharp (whom I've been calling Twyla Twarp for the longest time). This was a birthday gift of hubby because he knows I absolutely love Billy Joel. He bought the tickets months ago and I made sure we got front seats, even though I know Billy Joel won't be there.
I don't know when my one-sided love affair with Mr. Joel started. I just remember back in high school, a friend of mine was going to the States for a vacation and asked us, her girlfriends, what we wanted from there. Everyone went for either Duran Duran or Spandau Ballet posters, I wanted Billy Joel. Of course I became the brunt of many jokes because of that, but I didn't care. I love him, buggy eyes and all, and his wonderful, soulful songs even more.
Even now that he's gotten himself into a lot of stupid mishaps, making him regular fodder for those late night show monologues, I still adore him. It has never been romantic. I didn't even hate Christie Brinkley when she was with him, like I did Nicole Kidman for preventing Tom from meeting and falling in love with me. I am just in awe of his great talent and really really love his songs. I'll take him over the more-adulated Sting anytime.
The dancing was excellent, as I expected. I absorbed all the colors and lively movement excitedly, but silently. One thing I promised my husband, to convince him to go to a musical, is that I will not sing along. I kept this promise all night, but I must admit there were times when it was difficult, especially when "Uptown Girl" blared on the speakers - even some of the audience members couldn't resist!
The highlight of my night was when the singer sang "This Night", my most favorite Billy Joel song, which I didn't expect to hear because it wasn't one of his big hits. Heck it wasn't even included in his Greatest Hits cd I got a while back. I intentionally didn't pore through the Playbill before the show because I wanted to be surprised. And indeed I was. Even if the show ended after that song, which was about halfway through Act I, I would've been a happy camper.
The only heart-tugging moment I had was when the singer sang "An Innocent Man", which made me miss my
dad
. My dad loved that song, which was unusual because my mom and dad usually liked songs from their era, which meant Perry Como, Nat King Cole et. al. I'm sure he got to know it from my endless playing of the cd (or maybe casette tape back then)
An Innocent Man
in my room or the family car. It came to a point where we would both sing along to it over and over, much to my brother's irritation. Years later when our roles were switched and I was doing the driving and he was my passenger, the song came on the radio and we just looked at each other and smiled.
I tried to focus back on the story to enjoy the rest of the show, which I did. After the show my husband got me the cd for the original Broadway play, and we both smiled when we saw that we didn't get a ticket for the unsafe parking we did next to a Stop sign. During the ride home Black Eyed Peas was on, but in my mind all I could hear was my daddy and me singing along to "An Innocent Man".
I know you don't want to hear what I say
I know you're gonna keep turning away
But I've been there and if I can survive
I can keep you alive
I'm not above going through it again
I've not above being cool for a while
If you're cruel to me I'll understand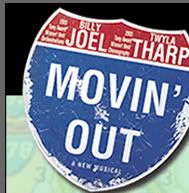 Fish Out of Water
Last Friday, the day before my birthday, my husband asks me to take the afternoon off, because he has a surprise. Of course I get all excited about this, and abandoned any hope of getting any work done that morning. When I get home, he looks at my attire, which was casual Friday, and tells me I just need to change my jeans. So I change into my favorite Gap low-rise dark gray slacks. He also says to wear comfortable shoes, but I stick with my high-heeled open-toed ones.
"Where are we going?" I ask about 178 times during the drive. His reply would be to turn up the music so by the time we get to our destination I have lost half of my hearing. When he takes the Carmel/Monterey exit off of Hwy 1, I smartly point out "We're going to Carmel!"
"You've got me, but I have to drop by my dad's first to pick up something." I still knock myself in the head today for believing that! So he drives up to Dad's house in Pebble Beach, and lo and behold we see around five cars on the driveway. The excitement must have eaten my brain cells that day for I still didn't pick up on this. I said I'll just wait in the car. Then he laughs and tells me to "Come on!".
Inside the house I was surprised to see my brother-in-law and his kids who flew in from Boise, Idaho in the living room, and Rich's step-sister, her friend, and their daughters mulling about in the kitchen.
But they didn't yell "Surprise!" for me.
What's more, they're all dressed to the nines! What's this? What's going on? My mind was rambling with all these questions. I visit with my brother-in-law, and he tells me we're going to the Pebble Beach Concours d'Elegance. I start to panic, and he tells me "Don't worry, we're only going to the Lexus Fashion Show."
Don't worry?!! You're all dressed for a ball and I shouldn't worry?!?!
My father-in-law and mother-in-law walk into the room and greet me a happy birthday. I was half-listening for I was looking for my dear husband, whom I wanted to run over with a Lexus at that moment.
As we walked to the Pebble Beach fairway towards the humongous Lexus tent, I feel a knot in my stomach. Everywhere I look people were dressed in their finest, complete with their bling. My mood quickly went downhill, such that I couldn't hide it in my face. My mother-in-law, who's one of the sweetest people on earth, hugs me and says I look great, and not to blame Rich for she's the one who said to wear casual. Rich's stepsister and her friend gather around me and tell me not to worry because I had the best figure of any girl there so I look great. Of course that's not true but that's not even the point! It gets so bad that at one point I take Rich aside and tell him I'll just drive back to Dad's house and wait there for them. When he tells me I looked better than anyone there (hey, he's my husband), I said it's bad enough that I'm the only brown creature there, but to not have the appropriate attire! I've been to big shindigs at Pebble Beach before, where yes, I felt uncomfortably out of place, but at least I was dressed for the part. I started to tear up. He feels bad and offers to drive me home. I said no, I'll tough it out. I accept the glass of wine, check out the hors d'oeuvres, and really try hard to smile. But I told him if people start to hand me their empty wine glasses I'm out of there.
As the day wears on, I start to see some women in slacks and even some young ladies in jeans. This made me feel better. The fashion show begins, and I thought I might as well take pictures. Since we ran out of seats, I walked up next to a pole to get a better view. This proved to be a vantage point, for I was able to get great pictures of the models, and the car with the celebrity in the end.
We headed back to Dad's house where we had a huge family dinner and they had cake for me. We talked, laughed and watched the opening ceremony of the Olympics. By day's end, I didn't want to leave. On the drive home, Rich apologizes once more.
I just replied, "You better have a kick-ass birthday planned for me."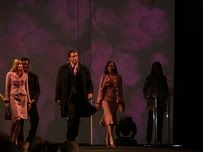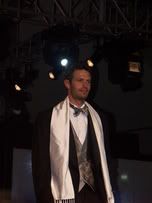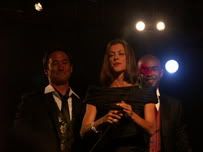 The Wrong Identity
Hubby and I were watching The Bourne Identity a couple of nights ago.

"I don't like Matt Damon, he reminds me of <--insert ex-boyfriend #2 here-->," I blurted out.

"Oh?" he asked. "Who do I remind you of?"

"Rodney Dangerfield."

You would think that would start another mutiny in the family (and this time, I would've admitted "mea culpa!"). But no, he just let it go. At first I thought he didn't hear, and I had the dilemna of saying it was a joke (which it obviously was) or just saying nothing. Wanting to keep the peace, I said nothing.

Later that night, as we were getting ready for bed, he says "Rodney Dangerfield eh?" and starts tickling me until I cried "uncle!". That's one of the things I love about my husband. He's funny, but in an unpredictable way (unlike Rodney and his one-liners).

It's true though, that Matt Damon reminded me of eb#2. Although eb#2 is Filipino, they have similar boyish features. They're also both from New England. I think the capper was when, after we've broken up (er, he dumped me), eb#2's dad told me that I should go see "Good Will Hunting" because it was the story of his son and me.

Of course I went and saw the movie. It was flattering because Matt really loved Minnie in it, but just decided they don't belong together. I'd like to think that it was the same for eb#2.

Breaking up with eb#2 was probably the most painful thing I've ever experienced in my life. It was first time I felt my heart hurting - physically! I find it funny now but I remember being surprised with that and keeping the phone close to me in case I got a heart attack and needed to call 911. It was a very long and arduous breakup, consisting of the following steps in a span of several months:
1. I decide we're not meant to be, so I tell him it's over
2. I realize how much I loved him, so I get back together with him
3. Repeat steps 1 and 2 twice
4. Him getting tired of all this and shutting me out of his life

So yeah, I deserved to be dumped. I never doubted that he loved me, but I hurt him so many times that I could've sworn he wrote Maroon 5's "This Love." And I never doubted that I loved him. I didn't at first. In fact, we were friends for over fifteen years before I did (yes, since we were this small).

When I moved to California, he flew in from the East Coast to help me get settled. Since I was alone and really, really scared, I was so grateful for this and thanked my lucky stars. He helped me get a place, buy a car, open a bank account, shop for furnishing... you get the picture. One night, he told me he was falling in love with me. My response to this was disgust, because I was in a long-term relationship with one of his friends. I threw him out of my place (yes, the place he helped me get) in the middle of the night. That didn't stop him though. After he flew back home he started sending me a card every other day. And he didn't stop.

I knew this was trouble. Looking back now, I realize that I don't fall in love at first sight but tend to fall for someone who relentlessly proclaims his love for me. All my long-term relationships (which you can count with one hand, without even using the pinky and thumb!) follow this formula: guy I've been friends with for a long time says he likes me, me feeling weird and avoiding the guy, guy persists, me falling for the guy... hard.

So I started falling for eb#2, and I ended my 11-year relationship. Since this 11-year relationship was my first, I started to panic. Having been with someone for 11 years, I have lost my independence and have always thought I will be with this person forever. I just couldn't picure my life without him! So I told eb#2 I can't be with him and then got back together with my first boyfriend. I then found myself thinking of eb#2 all the time, so I broke it off again with first boyfriend and went back to eb#2, and so on and so forth.

I used to attribute all this to youth and naivete, but now I accept that it was sheer stupidity. All I cared about was how I felt, now how others felt. Because of this stupidity, I went through my darkest and coldest phase. However, if not for that darkness and coldness, these steps wouldn't have happened:
1. my husband, who was already a long-time friend of mine, comforts me and tries to cheer me up
2. he falls for me
3. i feel weird and avoid him
4. he persists
5. i fall... hard

Now, I'm older and wiser and happily married. I love that my husband keeps telling me to take him for granted, implying that he will always be with me. On my part, I am certain that I will always be with him as well. That makes me feel warm.

Do you believe that everything happens for a reason?
Mutiny in the Family
I got into an argument with my husband tonight, on the way to dinner. It was very stupid - we were just talking about moving the furnace and installing A/C for the whole house. In my excitement, I asked if we could do it before the party two weeks from now so we'll have A/C, and he said something like "Nobody cares about your party so give it up, okay?" My stepson in the backseat pipes in with "Yeah!"

I felt the blood rush to my head. When I get angry, I grow silent. It's mostly because when I'm really mad, I tend to explode and say incoherent things so over the years I've found it prudent to just shut up. While we were waiting for our food and my stepson was in the restroom, he confronted me. I said some hurtful words at him in retaliation to his remarks.

That's one very bad trait of mine - I seem to like to hurt the people I love with mean words when I'm really upset with them. I don't think about the consequences or how this might do permanent damage, but I really push the envelope when it comes to arguing with those close to my heart. This is one characteristic I know I should really work on, but I haven't been able to shake it off.

What I failed to tell him, because I was still overcome with anger and thus inarticulate, was that he could've just told me "No" and not embarrass me in front of my stepson, which he has been doing quite a bit. I don't really care about the party, and I know they both will have a better time at it than I would. What bothered me was being disrespected by my stepson, and my husband knew this was a big deal for me.

My nine-year-old stepson and I have a great relationship. However, I'm more a friend to him than a mother. On our best day, no one can come between us. He hugs me more than he hugs his parents, and wants to play with me more than anyone else. Sometimes though, this friendly relationship backfires, and he treats me like a friend - plays tricks on me, embarrasses me, makes fun of me. One time, he laughed at me for pronouncing "tortoise" as "tor-toys", because, after all, that is how I've been saying it all my life, in the Philippines. In the United States, it's "tor-tis". I tried to make light of the situation by telling both him and his father, because the latter joined in on the laughing, that if they ever go to the Philippines and say "tor-tis" they'll be hanged. Of course, from then on, I make sure that I think tricky words through before I say them, because I don't want them to have any more arsenal. Sometimes I overdo this and still say a word wrong, although I usually say it right otherwise.

Being the newest addition to the family, my husband and stepson tend to gang up on me. The target is usually my Filipino eccentricities, because they know I have them beat on everything else (especially Jeopardy!). Although we have a lot of fun with our bloody competitiveness, I remind my husband when we're alone to let up on the teasing, because my stepson gets bolder and I need to keep his respect. He acknowledges this but forgets once in a while. Tonight was one of those times. He still believes I got upset with the attack on the party but in actuality it's being made the butt of a joke once again.

Do you feel that you express your anger effectively? If so, how do you do it (because I sure need tips!)?


Good House Hunting
Rich and I spent all morning with my cousin/realtor and her husband who are helping me look for a house. I won't live in it, it just as an investment. After all, real estate is about the surest thing you can put your money in around the Bay Area. So I pulled out my contribution to our Stock Purchase Plan, and am planning to reduce my 401k dole-out as well. I have gathered enough courage to be a first-time home buyer.

I remember going through the same process 4 years ago, for an entirely different reason. I was looking for a townhouse to buy for my parents, who were planning to migrate to the United States. Though Rich and I were already dating then and he was also helping me, I had a different realtor, a no-nonsense tiny lady who packs a mean business punch. My cousin wasn't even remotely involved in real estate then too, she was busy working at mySimon.com. Ah, the good old dot com boom days.

The house prices back then were outrageous, but I felt like I found a couple of reasonable deals. I made an offer on a 2-bedroom, 2-bath townhouse and flew to Houston the same day to meet up with my parents. We were attending the wedding of a cousin there. I sprung the news to my parents at our hotel, and excitedly showed them pictures. Even if they too got excited at the prospect of living in their own house in the States, their mood suddenly changed when they found out how much the house cost. They felt really guilty that I would wipe out my savings and will have a greatly reduced cash flow. After a long discussion, we all decided it's not wise to buy the house at that time. When I was sure that they have made up their minds, I called my realtor to withdraw the offer. Luckily, it hasn't been accepted and my deposit check was graciously returned by the seller. Back then, sellers have their pick from a multitude of buyers, with the bidding reaching an incredible amount over the asking price. I was lucky my seller felt getting another buyer would not be a problem.

Unfortunately, things did not really work out. I found out later on that my parents would have preferred a place of their own, but by then it's too late to purchase a house, since I got them a lease in an apartment and my dad underwent heart surgery that racked up a lot of bills.

Now my dad is gone and my mom just shuffles between here and the Philippines. As I look at the houses now, I methodically calculate how much I can rent it for, how easy or difficult it would be to maintain it, what kind of renters I can attract for it. I miss the time when looking at houses meant ensuring that it's one level, because my dad doesn't like stairs, or imagining where my dad's lounge chair will be as he watches his favorite Game Show Network, or making sure that the master's bedroom had a walk-in closet for my mom's extensive wardrobe.

I am looking for a good house for other people, because I missed out on providing a good house for my people.


Respondez S'il Vous Plait
Two weeks ago I sent out an Evite for a summer BBQ I'm throwing for some friends. I was so excited. I had everything perfectly planned - the food, the pool toys for the kids, the poker game and the karaoke (hey, I'm Filipino, remember?). What's more, it was very difficult to convince my husband to allow me to have the party. He doesn't understand why I always love to host parties, when he feels that the house is not in good shape. The house does need a lot of work, but I feel that it's presentable for social gatherings. So with a lot of coaxing I got him to say yes. Imagine my joy when I found out he even bought 2 sets of really nice poker chips for the party, because our old ones need to be taken out to pasture.

So here I was, excitedly awaiting the replies to my fun and witty Evite (at least I'd like to think so). I have one new message from Evite. Yes! I click on the link and what do I see? My first reply is a regret! That really bummed me out. She does have a good reason - she'll be out of town that weekend - but why did she have to reply so fast, such that I had an I Fold before I even had any I'm All Ins? Now I feel that when the other invitees check out the Evite, they'll think twice before saying yes. Hmmm, she's not going, maybe it won't be so much fun.

I know I'm being silly, but that really put a downer on my day. And by now I actually already have 22 I'm All Ins, 5 I Checks and only 3 I Folds. Plus 7 Not Yet Replieds.

Now let me tackle these 7 Not Yet Replieds. Since Evite shows the host everytime the guests visit the site, I actually see some of these Not Yet Replieds looking at the Evite everyday. What's up with that?!! They're espying who's coming to the party before they dole out their precious RSVP? I'm tempted to take them out of the guest list as a punishment. You couldn't decide if you wanted to go soon enough, now you've lost the right to go to my kick ass par-tay! I know I'll never do that, and I sincerely want all these people to come (I wouldn't have invited them otherwise), but sometimes life is too funny it's sad.

Note: If you happen to be one of these Not Yet Replieds, I apologize if I have hurt your feelings. I just please to respond to your RSVP (or lack thereof).

What are some of your pet peeves?