Who am I?
S vintage star
S filipina now living in california
S obsessive-compulsive... make that compulsive-obsessive... no, obsessive-compulsive
S cold all the time (literally)

current terror alert level

Why is Life Cold?
i actually have a very happy life. i just saw this graphic one day and got an inspiration for another blog. why not write about the stuff that makes life cold? from the huge, catastrophic, life-altering events to the seemingly trivial, little incidents that rub you the wrong way. it doesn't have to be a personal experience, it can be something observed.
on writing these down, my intent is to learn to appreciate life more and have a better handle on things when life throws you a curve ball. i want whoever will read this to contemplate, not get depressed. hopefully, you'll share with me your experiences as well so we can learn from each other.
p.s. it doesn't always have to be cold
Previous Posts
Archives
Get Cold With Me
Where I Go When I Feel Life Getting Cold
S Memento
S Jo's Forum
S Shai Coggins
S pinayexpat
S joyceline
S piehole (a very funny girl)
S Din's World
S pinayhekmi chronicles
S Linnor
S Tin
S kwentong tambay
S deja brew
S denden
S mushings
S Junkville (never fails)
designed by lonelyger





Look Ma, No Skeletons
This past weekend, I finally was able to finish (or at least tackle the big part of) organizing my closet. We decided to convert one of the bedrooms in our house to 1/3 my closet, the rest an extension of the master's bathroom. Since our house is very old and needs a lot of work, we have been tackling about two projects per year. Last year it was replacing all the windows and the re-stucco-ing of the whole exterior. This year is building my closet and remodelling the master's bathroom.
I was hesitating on posting this, since it's such a personal space, but I'm really proud of my husband who did 90% of the work (I just installed the shoe racks, assembled the drawers, and provided the clothes, hee hee). So, welcome to my closet! My
very
green closet...
hubby texturing the walls himself
work in progress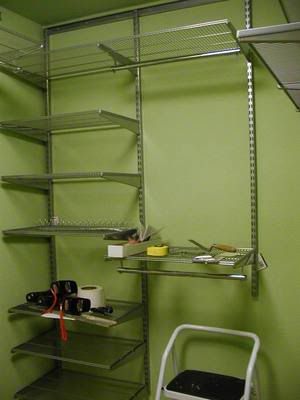 installing shelves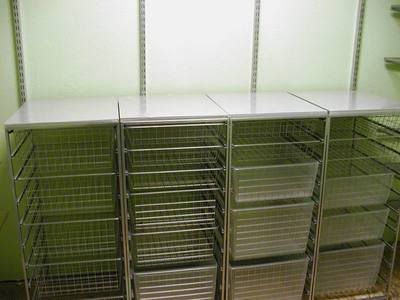 configuring drawers
finally finished the shoe racks!
my favorite fixture - the light
time to fill in with stuff, starting with the short hang...
then the drawers...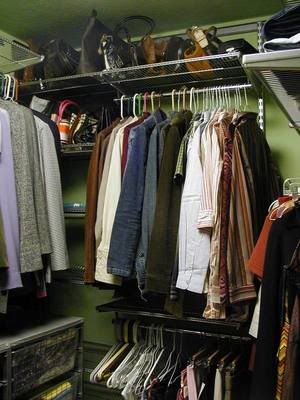 then the double hang...
purses...
long hang...
and finally the shoe wall (best part of it? there's room for more!)
Hmmm, it looked better when it was empty. I still need to do a lot of work, like buy hangers and get rid of some more clothes. But I'm happy I can actually see my clothes now.
Blue Mood
I've been down in the dumps lately. I cannot pinpoint one reason why, I believe it's due to many things.
First of all, I got sick last Sunday. Bad timing too, because I attended my friend's daughter's first birthday party (and thus wasn't able to hug and kiss her, boo), and I have worldwide training scheduled this week. When I wasn't getting better last Monday, I went home and tried to get as well as I could for I certainly couldn't conduct any training in that condition.
Tuesday at 5:00 pm, I trained our salespeople in Asia for the new computer system I'm rolling out. Three hours later, I rushed home and sedated myself with Nyquil, for I really felt sucky. The following day I had to get up at 5:30 am to train our salespeople in Americas and Europe. That same night at 7:30, I had to train our Customer Support people in India. I managed to conduct three good sessions, even earning kudos despite my coughing (which I apologized in advance for!). After three rounds of training, I was so pooped. Thank goodness for Augustine who was a trooper and helped me out with all the sessions, even though he didn't have to. You're a lifesaver, Auggie!
Also, I think I'm having a falling-out with my boss. It's mostly my fault because I talked back to her during a staff meeting, so she kind of lost face, but I couldn't help it. I really lost my cool because she has been trying my temper recently. She is under a lot of pressure and tends to take it out on her staff. She keeps on going back on her word on me, making me lose face to my vendors. I've finally had it when she did it another time that I gave her proof that contradicted her statement, in front of all her staff. She lamely blamed it on our reduced budget and left it at that, but by then I knew I've gone too far.
Pity, for she and I have a wonderful relationship. So wonderful that I'm being teased by my peers to be her favorite. I just attribute that to jealousy, because I know my worth and how much I contribute to the firm. My own frustration has gotten to a level that I have even started looking at job openings elsewhere. Pity again for I really like my job, for the most part. I am very comfortable at my company, highly respected and genuinely like all the people I work with.
So here I am, still sick, hoping to get out of this rut soon. I think this is God's way of reminding me that it is holy week, and I should contemplate and meditate instead of doing worldly things. I only smiled when, lying on the couch, I asked my husband to bring me socks for my cold feet, and he got me these:
Sugar + Caffeine = Work Longer
Last Wednesday, I created my
43 things
on
43things.com
, which was referred to me by
Junnie
. It's a neat site where you can list down your goals, with the presumption that writing them down makes it easier to achieve them. What I like most about the site is that you can see how others have completed the same goals, and they tell you how they did so. Some courageous ones even offer to help, so you can ask them any question on a particular goal. A cute touch is that the community can cheer each other on specific goals.
Okay, so I tried to be SMART (Specific, Measurable, Achievable, Realistic and Time-based) with my goals. Some items on my list are
lose weight
,
drink more water
and
get in shape
. Pretty simple right?
I just have one problem. Our Facilities Manager at work sent an announcement today that from now on, our company will be providing free snacks and beverage for all employees, including chai teas and espressos from Peets and Starbucks. Sure enough, when I sauntered to the cafeteria, this is what greets me (pardon the grainy pictures, taken with a phonecam):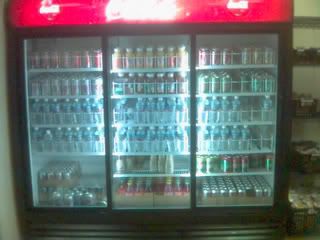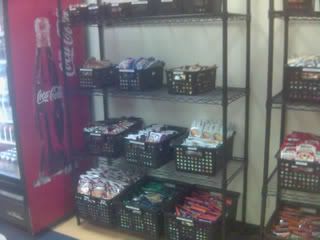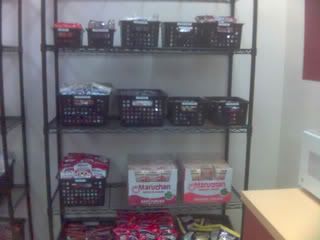 And my personal favorites: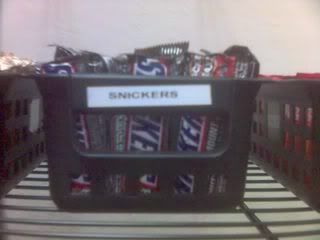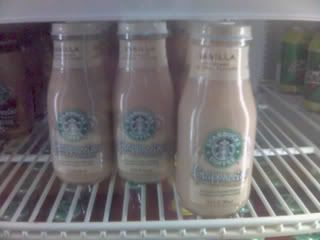 Damn you workplace <
fists waving in the air
>! Why oh why must you taunt me?!?!
No Wonder I Like Green Day
On the way to work this morning, it was green light all the way, allowing me to reach work in 8 minutes. I don't know if the San Jose traffic light system is incredibly efficient or incredibly poorly-designed, but I have been noticing this for a long time now. I either get a slew of green lights or red light after red light, such that at my first stop at the end of our main road I can already tell if it's going to be a green or red day. When it's a red day, it's like the traffic light gods are smirking down on me, and force me to painfully notice how many intersections I have go through because I have to stop at every one of them. So, I get to work in 15 minutes instead of 8, and never in between.
Sometimes, life feels like that. The saying "when it rains, it pours" comes to mind. In recent years, it has been a series of green lights for me, with just one depressing red in between. Unfortunately, my pessimistic nature compels me to anticipate when the reds are going to come. I morbidly think of scenarios that would interject a flat tire in this otherwise smooth ride.
Perhaps it's this defeatist attitude that prevents me from believing in streaks. I still cannot fathom why my husband would bet the whole sum of money he had just won in a hand of blackjack in the next hand. He chuckles as he tries to explain, as if to a little child, that he's just "riding the wave." Wave, what wave? Doesn't basic statistics tell us that one deal is different from the next? Even if you are the shrewd type who can memorize the cards that have been dealt, the vast possible combinations of the remaining ones couldn't promise a guaranteed win, could it?
This thinking is what makes me the type who usually bets the same amount for every hand in blackjack. As if to punish me, when I sometimes feel lucky and bet more, I almost predictably will lose the hand.
The gods of gambling must have conspired with the gods of traffic lights that day.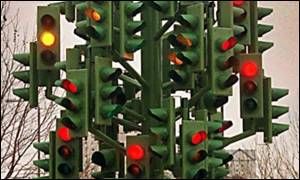 Happy Birthday Junnie!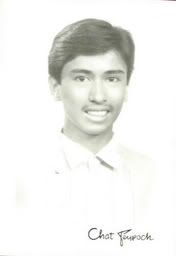 I don't remember when I met Junnie, but I'm pretty sure it was in the 6C classroom in DLSZ. Over the years, I got to know him really well, especially since we were classmates from then on until Junior year in high school, plus schoolmates at DLSU.
Junnie is funny. Junnie was the class clown, and his jokes make you think. I remember one time when he pulled a prank on our Sophomore class. We had our names stenciled on scotch tape at the front of our seats. One morning we came to class with some of the names changed to something funny (e.g. Norman Maglasang was changed to Norman Maglasing [to get drunk]). The whole thing was so funny that even those maligned didn't take offense, and while our teacher tried to keep a straight face in asking who did it, we could tell she was ready to burst in laughter. Cleverly, Junnie also changed his name from Junnie Arreza to Junnie Arrest to divert suspicion away from him. I don't think our teacher ever found out who did it.
Junnie is intelligent. He's always at the top of the class, and was a representative of our class in many, many contests (except maybe the singing contests).
Junnie is a natural leader. He was our class president year after year. Every election time, it was a given that Junnie will be class president, such that everyone else just ran for the other positions. He led us well. Whether in glory or in shenanigans, our class was always united and we knew we got his back, as he did ours.
Junnie is creative. His mirror signature, his font-like handwriting, his outstanding art projects, his funny haiku... the list is endless. My brother whom he used to work with once told me a story on how he encountered some trouble with embassy officials because they thought the signature on his passport was counterfeit - it was too perfect and every instance of it was exactly the same as the others!
Junnie is well-rounded. Although a southpaw, he is a perfect blend of right and left brain, excelling in anything he delves into - academics, the arts, sports.
Junnie is a great friend. He is one of the few "boys" that I used to chat on the phone with for hours. He's a great listener, and his advice is priceless. He's very considerate, not just to you but to all the parties involved. He's very thoughtful, even though we've lost touch he still remembers my birthday.
Above all this, Junnie is a wonderful husband, son, brother, uncle and Christian. Although I haven't seen him in years, I see this everyday in his blog, his pictures, his emails, his comments.
Happy birthday Junnie! For you and Mitzi, I pray for the gift of becoming parents soon. I'm sure you'll be wonderful at it.
exactly 10 years after our high school graduation
the boys didn't see it coming
the original gwapings
even then, the omnipresent camera in his hands (hi Mitzi!)
Long Overdue Music Tag
Random Ten:
1. One Thing - Finger Eleven
2. Heart of the Matter - Don Henley
3. Cool Change - Little River Band
4. Somebody Told Me - The Killers
5. What Am I To You - Norah Jones
6. Love of My Life - Queen
7. Jesse's Girl - Rick Springfield
8. Got To Be Real - Cheryl Lynn
9. Let's Stay Together - Tina Turner
10. Spoiled - Joss Stone
1. What is the total amount of music files on your computer?
I don't really know and I'm too lazy to find out. I had > 4 GB on my old computer (thanks Kazaa!) but then my hubby erased them when he rebuilt it. I think I'll try the new Napster.
2. The last CD you bought is:
Frank Sinatra CD at Starbucks for my mom when she comes back here this month (woo hoo!)
3. What is the last song you listened to before this message:
Yeah - Usher (my ringtone... does that count?)
4. Write down five songs you listen to a lot or mean a lot to you:
a) Solsbury Hill - Erasure
b) Hard Habit to Break - Chicago
c) Every Breath You Take - The Police
d) Best Friend - Basia
e) This Night - Billy Joel
5. Who are you gonna pass this stick to?
Jo and Franny, but I'm not going to hyperlink their names because I don't think they want their blogs publicized.
Thanks
Linnor
!
Life's Little Pleasures
Last night, I went to dinner at
Blowfish
with the consultants on my project at work. Among the three of us, we ordered way too much sushi and rolls. I think it has to do with
Augustine
digging our pretty server and wanting either to impress her or give her a huge tip. My favorite was a salmon/tuna/avocado roll topped with cheese. Mmm, everything tastes better with cheese.
I had a great time, as I always do with Augustine. As I have worked with him on several projects, we have become friends. I feel like an older sister to him, and he even went to my wedding. He is so cool, friendly, smart and charming, but he is such a player. Everytime he calls, it seems like he's going out with a new girl. The other consultant, Oscar, is from New York and I've only met him on this project. He is the exact opposite of Augustine - shy and reserved. All he did was laugh at our stories and shenanigans.
After dinner, we moved on the the
V Bar
, a hip and high-tech bar in Santana Row. And then the best thing happened.
I got carded.
For those not familiar with this, being carded means the bartender asks for your ID as proof that you're 21 or over and thus, legal to drink. And I even ordered a wimpy drink, amaretto sour! Augustine, who's 26
and didn't get carded
, was giving me crap, maybe because he dug the pretty bartender and she wasn't paying any attention to him. I didn't care, my smile was so wide, nothing could ruin my night. As she handed me back my card and thanked me, I said, "No, thank YOU."