Who am I?
S vintage star
S filipina now living in california
S obsessive-compulsive... make that compulsive-obsessive... no, obsessive-compulsive
S cold all the time (literally)

current terror alert level

Why is Life Cold?
i actually have a very happy life. i just saw this graphic one day and got an inspiration for another blog. why not write about the stuff that makes life cold? from the huge, catastrophic, life-altering events to the seemingly trivial, little incidents that rub you the wrong way. it doesn't have to be a personal experience, it can be something observed.
on writing these down, my intent is to learn to appreciate life more and have a better handle on things when life throws you a curve ball. i want whoever will read this to contemplate, not get depressed. hopefully, you'll share with me your experiences as well so we can learn from each other.
p.s. it doesn't always have to be cold
Previous Posts
Archives
Get Cold With Me
Where I Go When I Feel Life Getting Cold
S Memento
S Jo's Forum
S Shai Coggins
S pinayexpat
S joyceline
S piehole (a very funny girl)
S Din's World
S pinayhekmi chronicles
S Linnor
S Tin
S kwentong tambay
S deja brew
S denden
S mushings
S Junkville (never fails)
designed by lonelyger





Gimmicks
In the Philippines, we call an excursion, a night-out, or any outing that has the promise of a fun time ahead a "gimmick". Well, at least we did so a decade ago. Since the Filipino slang evolves faster than you can say "jolog", I'm not so sure if that word is still used in that manner.
For the past weeks, I have had an excuse to embark on several gimmicks because we have guests from our Philippine plant. Due to the major reorganization going on in our company, they have been sending engineers and technicians to get trained here in headquarters. We have three visitors who are all here in the United States for the first time, so I thought I'd show them some of the sights. Here are some of the places we went to, in pictures!
17 Mile Drive in Monterey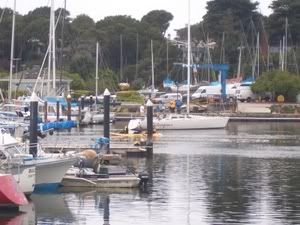 Harbor boats in Santa Cruz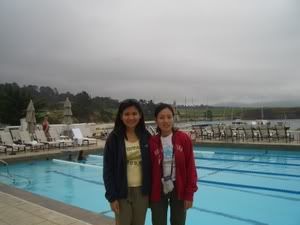 By the pool in Pebble Beach Golf Club
By the Lone Cypress, the logo of Pebble Beach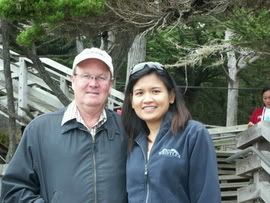 Still by the Lone Cypress with hubby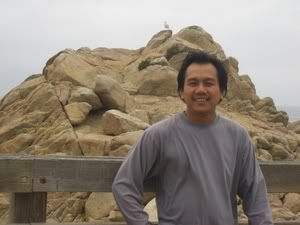 Rommel at the Bird Rock, one of the stops at the 17-mile drive
Monterey Bay Aquarium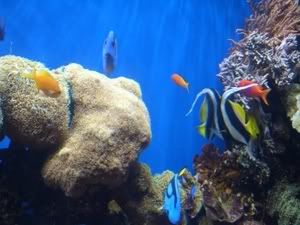 Some pretty fish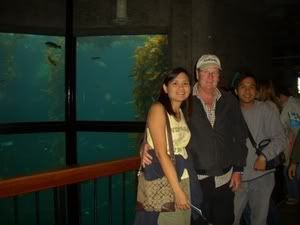 By one of the many aquariums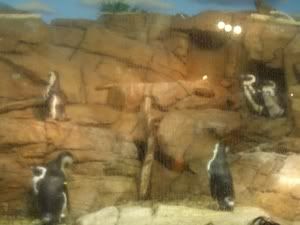 The penguins that were not marching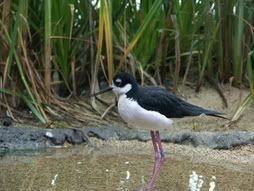 One of the many birds, yes birds, at the aquarium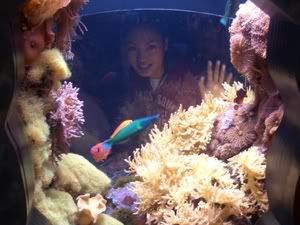 Lizeth behind the fish tank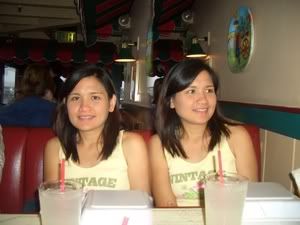 Having dinner at the end of Fisherman's Wharf
My Birthday Dimsum Lunch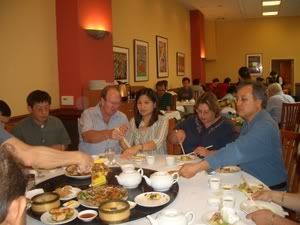 That's hubby on my right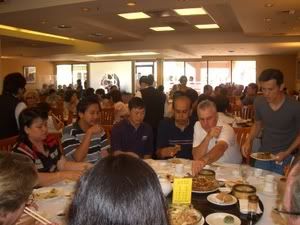 Some guys from Product Engineering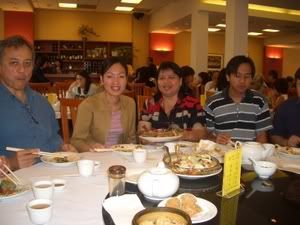 Manuel, Lizeth, Nomie and Rommel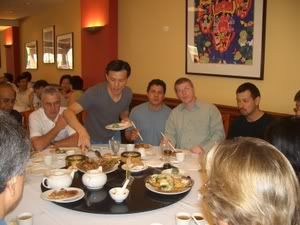 Chen, the one standing, organized this lunch. Norm, our Senior VP (2nd guy from right), paid for all of it. Thanks guys!
San Jose Giants Game
The pitchers...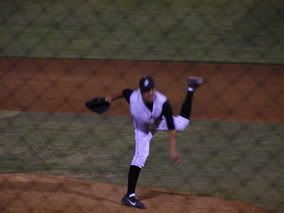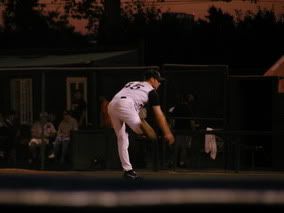 The batters...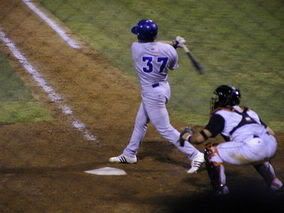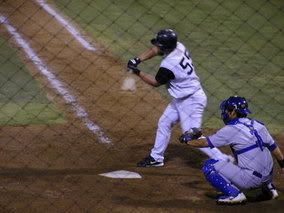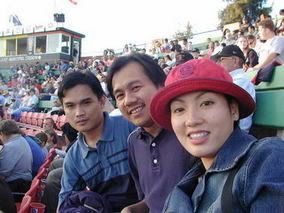 At the stands (Dante, Rommel and Lizeth)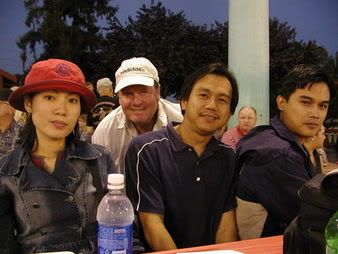 Enjoying cheesesteaks and tri-tips while watching the game
4
Four has always been my favorite number. I like its evenness, which feels more stable than two.
Anyway, I'm four months along in my pregnancy. The other day, I went for my amniocentesis. This is the exam where they find out if the baby has any chromosomal defects such as Down's syndrome. For the exam, I had to undergo an ultrasound first to determine the best area in my tummy to draw the amniotic fluid from.
Prior to the ultrasound, the technician, Buffy, warned us that, although early, the gender of the baby might show in the ultrasound. Thus she wanted to know if we would like to find that out or not. Is she kidding? I've been dying to know! I emphatically nodded yes and she started the procedure.
Because my belly has not been growing these past months, I have been worrying a lot lately. Add to that the absence of usual pregnancy symptoms such as morning sickness and cravings, and the well-meaning concern from friends if I'm eating enough or taking good care of myself. However, the first sight of the baby inside me melted all those worries away: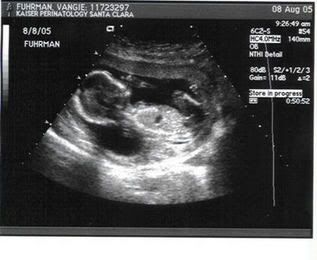 The baby had the back of its hand on its forehead, as if saying "Oh! Why are you guys poking me? I just want to be left alone!" Buffy, my husband and I laughed at this. Then Buffy said "We'll just pretend that it's waving hello to us."
Buffy then had to look at all angles - the top of the head, the side, the back, etc. When she turned to the bottom of the baby, we saw its legs in a U position, and then she smiled.
"Uh-oh, he's not very modest. He's proudly showing himself to us!"
I focused on the screen on sure enough, I saw a tiny triangle in between the legs. At this point, I couldn't help but cry. I know millions of mothers have gone through this, but it just made it so real for me.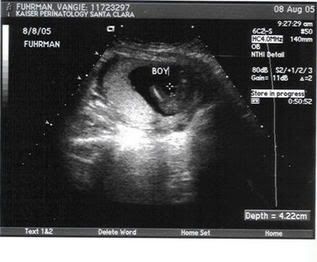 I hope he doesn't get mad at me later on for showing his privates to the world
She typed "BOY" on the screen, and I asked "Are you sure?" She goes, "We're not supposed to say we're 100% certain, but yeah, that sure looks like a he."
My husband and I were laughing (and yeah, I was still crying) at this point. Buffy scanned more angles and took measurements of the baby's head and his arm to determine his age. Then she took more snapshots, including that of his toes - his beautiful toes!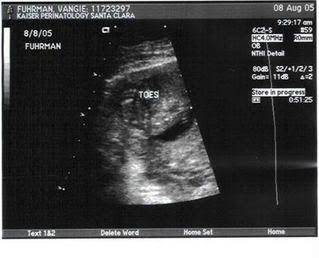 After the ultrasound the doctor came in for the amniocentesis proper. Dr. Crites did some more ultrasounds on me to make sure that they find the optimal spot. Then she, assisted by Buffy and two other aides, quickly poked me with the needle on the left side of my belly, as far away from the baby as possible. The doctor was so good in explaining to me what was going to happen or what is happening, and she was surprised that I wasn't bothered by the needle at all. What she didn't know was I grew up with asthma and had to have weekly shots for years to get rid of my allergies causing it. In any case, since the baby was cooperating (while he was constantly moving around during the ultrasound, he stayed away from the needle during the amnio) and I was doing a god job of relaxing while they were drawing the fluid, the process took half the time she said it would.
After she took the needle out, they perform another ultrasound and he looks fine, with the back of his hand on his forehead again as if saying "There, you got what you want, now leave me alone!"
I'm beyond excited! Even though we won't find out the results of the amniocentesis until two weeks from now, I'm so happy to see my baby again, and he looks great! I don't worry about my small tummy or lack of symptoms any longer, I just touch my belly and I know my son's right there, hand on forehead or not.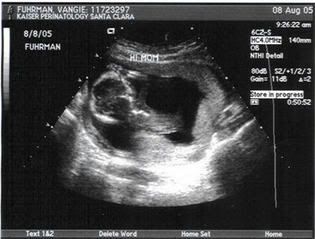 The Pieces of My Puzzle
I wasn't planning on writing a birthday post, but...
After a full and tiring day on Monterey's 17-Mile Drive and the Monterery Bay Aquarium, hubby and I dropped my friends from the Philippines at their hotel and got home at around ten and I crashed on the couch.
I woke up at 12:30 am, half an hour into my birthday, to the smell of my favorite brownies baking (my hubby's first birthday treat for me), and saw this: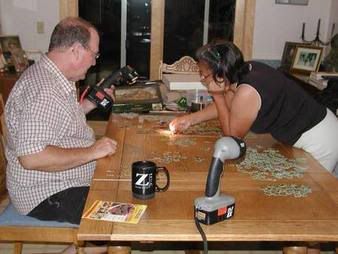 It's my husband and mom working on this: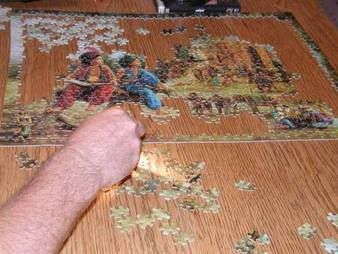 This is what they're trying to achieve: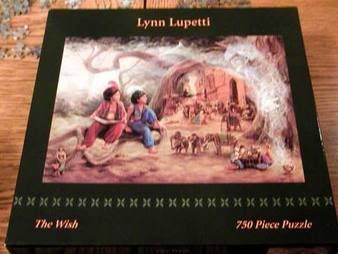 And they have this much to go: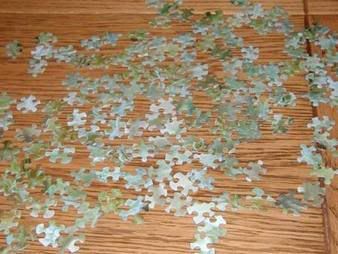 I don't know why but I was flooded with happiness at this sight. I am so happy and grateful to be with the two people I love most in this world on my birthday.
No, I didn't join and help them on the puzzle
(it's a very difficult puzzle)
, I just grabbed a brownie and milk and gave them moral support.
Overwhelmed
With work. With laziness. With tiredness.

I'm sorry I've been neglecting this blog lately. I have been meaning to post about many things - trip to LA, trip to Tahoe, progress on the baby front, etc. but just can't get myself to start. I don't know why but when I get home from work, all I want to do is crash on the couch, intending to go online later, and before I know it, my husband's waking me up to retreat upstairs to go to sleep.

Well, I partly know why. A lot of people are telling me it's a pregnancy symptom. I guess I should be grateful because this is the only symptom I do feel (I don't even feel pregnant - my belly's still flat). But as I've been telling friends, I'd rather be sick (only once in a while) and I do want to have food cravings, instead of feeling tired and lazy. I hate it when I've wasted the night away!

Anyhoo, I just wanted to apologize for the "absence". Not only have I been neglecting this, I've been missing my favorite blogs! I still haven't found a rhythm in regularly writing and catching up on reading. I think I'm getting tired of my template. Yes, I've been meaning to switch to WordPress (for about 6 months now) but I can't decide on what domain name to get. Any suggestions?

I have also replied to your comments (I truly, truly appreciate them!). Since I have a freebie system, I don't get notified of new comments so I hope I haven't missed any new ones you've written in some old posts.

Something more substantial here soon, I promise.
Spa Day Fun Day
A few weeks ago, I joined my cousins and their cousins for a girl's day/night out. They do this regularly and this is my first time to join them. We started the outing with various treatments at the Burke Williams spa in Santana Row. I had a milk bath and an 80-minute pregnancy massage. The milk bath was nothing special but the massage was wonderful. I was falling asleep when suddenly I hear the chimes signalling the end of the session. Darn.
At around 1 pm everyone has finished their treatments, showered and primped, and we took this picture at the lounge area of the spa: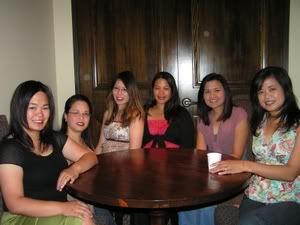 Do we look refreshed?
Next we had lunch at The Village Cafe, where everyone tried to eat healthy (I had a calamari salad) but cannot resist the garlic fries. Since all the other girls were either new moms, pregnant or both, I had a great time hearing stories and tips on what to expect from pregnancy and babies! Before we knew it it was almost 3 pm and we had dinner reservations at 6!
We strolled for a bit, checked out a couple of shops and then settled into their room at Hotel Valencia, still in Santana Row (four of the girls were spending the night there). We talked about everything - babies (of course!), in-laws, blogs, TomKat, Brangelina, Aerobeds and more. I love catching up with their respective families since I don't always see them. Pretty soon it was time to go to our dinner so we headed out.
Dinner was at a Vietnamese restaurant called Tamarine in Palo Alto. I realized why the girls have been so excited for it - the food was excellent! (If you visit me here I will take you there!) We ordered just about all of their small plates, and spent the next couple of hours savoring the tasty and lavishly-prepared food. Although it seemed that we ordered too much, we practically finished most of the plates. Afterwards we ordered all of their desserts, most of which were so exotic and I haven't seen before. After tasting everything, we picked our favorites and were amused at how the pregnant ladies opted for the same thing which the others didn't really care for.
Outside the restaurant we took more shots:
And the pregnant ladies: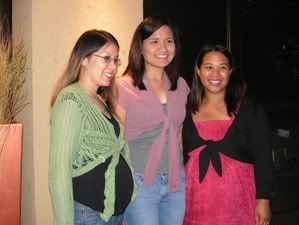 That was an awesome day! Too bad I wouldn't be able to join them at the hotel (I promised my hubby I'd be home), for I'm sure there was more fun and laughter in store. I'm looking forward to the next girl's day out!