Who am I?
S vintage star
S filipina now living in california
S obsessive-compulsive... make that compulsive-obsessive... no, obsessive-compulsive
S cold all the time (literally)

current terror alert level

Why is Life Cold?
i actually have a very happy life. i just saw this graphic one day and got an inspiration for another blog. why not write about the stuff that makes life cold? from the huge, catastrophic, life-altering events to the seemingly trivial, little incidents that rub you the wrong way. it doesn't have to be a personal experience, it can be something observed.
on writing these down, my intent is to learn to appreciate life more and have a better handle on things when life throws you a curve ball. i want whoever will read this to contemplate, not get depressed. hopefully, you'll share with me your experiences as well so we can learn from each other.
p.s. it doesn't always have to be cold
Previous Posts
Archives
Get Cold With Me
Where I Go When I Feel Life Getting Cold
S Memento
S Jo's Forum
S Shai Coggins
S pinayexpat
S joyceline
S piehole (a very funny girl)
S Din's World
S pinayhekmi chronicles
S Linnor
S Tin
S kwentong tambay
S deja brew
S denden
S mushings
S Junkville (never fails)
designed by lonelyger





Happy Halloween!
Last Friday, our company celebrated Halloween with a BBQ feast, costume contest and pumpkin-carving contest.
I didn't dress up this time, because I didn't feel like it. My husband suggested I come as a nun (we have matching priest and nun outfits), which would actually be cute because of my pregnant self, but I was afraid to raise some eyebrows. I just partook in the tri-tip, lots of yummy salads and treats during lunch. I also posed with the General Manager of our Philippine plant who was visiting and my boss (who'll be leaving in a week, sob):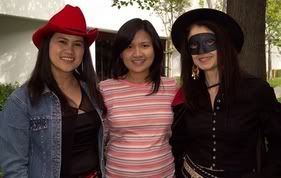 That's me looking all puffy at 27 weeks, with two of my mentors.
This was my favorite pumpkin, although it didn't win (we suspect the judging was fixed):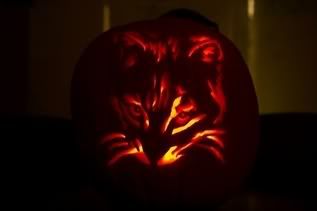 Kattie who did this kitty took five hours to carve this work of art.
Too bad my stepson got braces this year and cannot have candy, and is therefore not going trick or treating tonight. I always benefit from his loot :)
Happy halloween everyone! May you get all the candy you like! (I'll have to make do with any leftovers we get from the candy we're giving out tonight)
I Usually Don't Like Eagles, Especially the Blue Kind
About a week ago, my hubby and I saw the Eagles in concert - their California Tour. This was my Father's Day present to my husband last June because I know he loves the Eagles. Although I'm familiar with them, walking into the arena I wasn't expecting to be totally blown away, as I was three and a half hours later walking out.

I am a big fan of Don Henley, so I thought I would at least enjoy his bits. To my amazement, I knew almost every song they sang, including some that made me go "Oh, I didn't know that's theirs!" like I Can't Tell You Why and Love Will Keep Us Alive. The whole night was chock-ful of hits, including Don Henley's, Glenn Frey's and Joe Walsh's hits as solo artists so the night had a lot of added bonus.

My only disappointment was that they didn't sing Heart of the Matter, my all-time favorite Don Henley song. Nonetheless, I enjoyed myself fully, singing along with the songs. All in all they played 29 songs, with Hotel California, Rocky Mountain High, All She Wants to do is Dance, Already Gone and my husband's personal favorite, Desperado as their encores. Glancing at my husband all throughout the show, I can tell he's having a great time too.

Later on, he said that they sound exactly the same as they did thirty years ago. I'm pretty sure that's a good thing, because they sure gained a new fan out of me!
For the First Time in My Life
1. I have super-layered hair.
2. I'm fat and ugly, and I don't care.
3. I've nixed coffee and soda from my diet.
4. I love waking up every morning.
5. I have big boobs.
6. I'm extremely careful when driving.
7. I'm drinking milk everyday.
8. Did I tell you I have big boobs?
9. I'm seriously thinking of a career change.
10. I'm looking forward to December not just because it's Christmastime.
The Good, The Bad and the Ugly
The Good
Two weeks ago, the support groups in our company (Finance, IT, HR and Purchasing) had a Cape Cod Lobster Boil at our Finance Controller's backyard. A lobster boil is basically a huge pot where you drop in lobsters, crabs, shrimp, sausages, potatoes, corn and all kinds of seasonings. The house was beautiful, the company great, the food scrumptious! Here are some
pictures
.
We had a great time feasting, chatting and laughing. I had a waldorf salad, lobster, half of a crab and a corn on the cob. After lunch we played bocce ball. Our team lost, but for consolation prizes for everyone, we got to bring home a scarecrow.
The Bad
The following day, Saturday, I woke up to a nasty stomach pain. I realized I had diarrhea, but a couple of trips to the bathroom the pain was still there. I'm pretty sure I got a case of food poisoning. Aside from feeling crappy (pardon the pun), I was so bummed out because it rendered most of my weekend useless. I missed my stepson's soccer game, a friend's birthday lunch, and some pre-scheduled shopping trips.
Of course I kicked myself about this. I knew I wasn't supposed to eat anything raw, which I didn't but I didn't think seafood won't hurt me. I enjoyed the lobster so much I even partook of the head and all the juice!
The Ugly
Waking up on Sunday with the pain still there, albeit less pronounced, I started to worry about my baby. What if I'm passing on the bad stuff to him? I start to panic and cry and decide to go to the emergency room, but my husband reassures me that the baby is not being harmed. I'm only passing good nutrients to him. I try to stay positive and was additionally reassured of his continuous kicking, but I can't help but worry. I don't think I've been this sick from food this long in the past.
The Beautiful
In my delirious stupor of combined worry, pain and angst, I suddenly thought of the song "I'd Give My Life For You" from the musical Miss Saigon. I used to love to sing that all the time (more than "Sun and Moon"). This time however, the song took on an entirely different meaning for me. I found myself praying to God that if anything happens, to spare my boy and take me instead. This might be overly dramatic, but, this was such a revelation to me! I have never been this unselfish in my life and I haven't even met this boy. At that point, though, I swore with all certainty that I'd give my life for him.
You will be who you want to be
You, can choose whatever heaven grants
As long as you can have your chance
I swear i'll give my life for you