Who am I?
S vintage star
S filipina now living in california
S obsessive-compulsive... make that compulsive-obsessive... no, obsessive-compulsive
S cold all the time (literally)

current terror alert level

Why is Life Cold?
i actually have a very happy life. i just saw this graphic one day and got an inspiration for another blog. why not write about the stuff that makes life cold? from the huge, catastrophic, life-altering events to the seemingly trivial, little incidents that rub you the wrong way. it doesn't have to be a personal experience, it can be something observed.
on writing these down, my intent is to learn to appreciate life more and have a better handle on things when life throws you a curve ball. i want whoever will read this to contemplate, not get depressed. hopefully, you'll share with me your experiences as well so we can learn from each other.
p.s. it doesn't always have to be cold
Previous Posts
Archives
Get Cold With Me
Where I Go When I Feel Life Getting Cold
S Memento
S Jo's Forum
S Shai Coggins
S pinayexpat
S joyceline
S piehole (a very funny girl)
S Din's World
S pinayhekmi chronicles
S Linnor
S Tin
S kwentong tambay
S deja brew
S denden
S mushings
S Junkville (never fails)
designed by lonelyger





Blue Crab Monday
Last night I was busy working on my computer when suddenly, I heard my husband yell from the kitchen "Aaaah! Your crab's attacking my crab!". I went to see what the commotion's about and this is what I witness: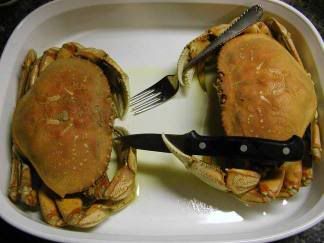 This made me laugh and suddenly hungry. I scooped up a big plate of steaming rice, made the sauces (Silver Swan soy sauce and Datu Puti vinegar with lemon for me, garlic butter for hubby) and we started to attack the crabs ourselves. Oh boy, this crab was the fattest and meatiest crab I've ever had in my life. I didn't even finish one, which is very rare for me.
In unrelated news, I'm sad to see Monday Night Football end. I've had a lot of good times watching it with my husband and/or friends, including while eating the crab last night. I have never liked watching ESPN so I'm sure I won't follow it there. It just isn't the same.
"Turn out the lights, the party's over."
Merry Christmas to All!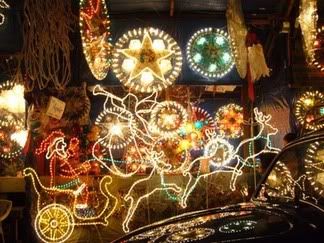 Gifts for the Wee One
As early as three months ago, I have been receiving gifts from friends for my coming baby. These were mostly from former co-workers in the Philippines who sent cute baby stuff to colleagues travelling here.
Twice lately, I have come in to work with a package on my desk. Since it's addressed to me and my husband, not to mention it being wrapped in cute baby wrapper, I can only assume that it's for the baby, so I'll bring it home and open it together with my hubby.
We have purchased most of the basic things that we will need for the baby - crib, dresser, sheets, bassinet, 2 car seats, 2 strollers, swing, high chair, etc. Since my baby shower is coming up, I hurriedly had to put up baby registries. My hubby, who is old-fashioned, doesn't like the idea of signing up for registries. I must admit I felt the same way when I first arrived here in the States, but now I see the practicality of it. When I'm on the other side and the one buying a present, I do like to have a list of things to choose so I'm sure I'm giving something needed and not a duplicate. So, I promised to him that I will pick simple and not extravagant stuff. Pretty soon he was helping me choose items, starting to get excited with all the cuteness.
The day after I put up my baby registry, I was surprised to see that three items have been bought from it already, and the invitations to my baby shower haven't even been sent! I started panicking because I haven't really given it much thought and just picked items that other gift registrants seemed to like. The amount of choices is overwhelming! In any case, it's so heartwarming to think that someone's thinking of my baby without being reminded.
Last night, I received this in the mail from my brother-in-law in Boise: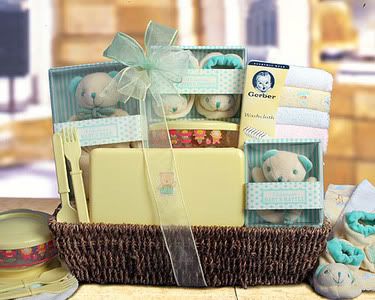 Again, I was touched with the thought. To friends reading this, please don't take this post as an attempt to solicit a gift :) I would honestly prefer prayers for a healthy baby and safe (and as painless as possible!) delivery of my very own gift.
Next To Go
We're still trying to get rid of stuff to make room for our new arrival. Here were the next things to go: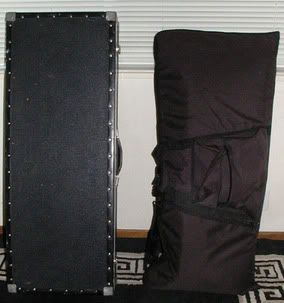 These were difficult for me again because these were gifts from an ex. Although I haven't used it in years since I bought a digital piano when I got married, I've had many fond memories with the keyboard. I used to lug that around (hence the hardcase, the stand and the bench) at parties and play for my friends and family. "Name that Tune" was a staple at our family parties!
I remember how my ex hand-carried the keyboard (and the hardcase on another trip) coast to coast because he knew I was getting bored being all alone in my apartment. In a way, these were my last link to him.
Instead of selling these at craigslist, my husband and I decided to donate them to my stepson's school's music department. We believe more people will benefit from them there than anywhere else. The music coordinator was very grateful, and I'm glad I've found a good home for these things I held dearly.
Next up - a Panasonic TV and stand.