Who am I?
S vintage star
S filipina now living in california
S obsessive-compulsive... make that compulsive-obsessive... no, obsessive-compulsive
S cold all the time (literally)

current terror alert level

Why is Life Cold?
i actually have a very happy life. i just saw this graphic one day and got an inspiration for another blog. why not write about the stuff that makes life cold? from the huge, catastrophic, life-altering events to the seemingly trivial, little incidents that rub you the wrong way. it doesn't have to be a personal experience, it can be something observed.
on writing these down, my intent is to learn to appreciate life more and have a better handle on things when life throws you a curve ball. i want whoever will read this to contemplate, not get depressed. hopefully, you'll share with me your experiences as well so we can learn from each other.
p.s. it doesn't always have to be cold
Previous Posts
Archives
Get Cold With Me
Where I Go When I Feel Life Getting Cold
S Memento
S Jo's Forum
S Shai Coggins
S pinayexpat
S joyceline
S piehole (a very funny girl)
S Din's World
S pinayhekmi chronicles
S Linnor
S Tin
S kwentong tambay
S deja brew
S denden
S mushings
S Junkville (never fails)
designed by lonelyger





I Just Wish He/She'll Have His Nose
A lot of people who know my husband and I, or even those whom we just met and find out that we're pregnant, tell us that we're going to have a cute baby. Somehow, children of mixed-race marriages turn out to be this beautiful blend of the two races, such that people just assume this to happen everytime. I must admit I too, grew up with the same observation. Heck, even the lady who did my make up on my wedding day, upon finding out that my husband is Caucasian [never mind that she's never seen him], cooed, "Oh! You're going to have a cute baby!"

Don't they know what kind of pressure this puts on us?!?! What if our baby will not be cute and beautiful? Worse, what if he/she turns out to have a face only a mother can love, like the one in that Seinfeld episode? That's enough to want me to add good looks to my regular prayer of good health for the baby!

I know, if that does happen, I will just turn to another commonly-held belief, that ugly babies turn out to be beautiful adults.

And don't you dare tell me otherwise!
Flick Me!
I got the movie baton from
this sweet girl
.
Total number of films I own on DVD and video:
VHS, 0. DVD, around 30.
Pero yung kopya, sangkatutak (wag ninyo akong isumbong ha).
The last film I bought:
Band of Brothers (as a present to my father-in-law). For myself, Triumph, the Insult Comic Dog.
Five films that I watch a lot and/or mean a lot to me:
My Best Friend's Wedding
Godfather I & II
Identity
The Usual Suspects
Dodgeball
Whom I am passing the baton to: you! do it.
doooo it.
DOOOO IT!
A Touch of Pink
The other day, Vicki from work came by my office, looked me from head to toe, said "That'll do" and asked me to follow her. We go out to the patio where three other girls were chatting. Vicki whips out a camera, hands it to one of the guys smoking outside, and asks if he could take a picture of us ladies. I suddenly realized everyone was wearing black and white. I begged off, saying I was wearing a little pink and would ruin the picture. Plus everyone was blonde! They laughed and persuaded me to join them so it resulted to this: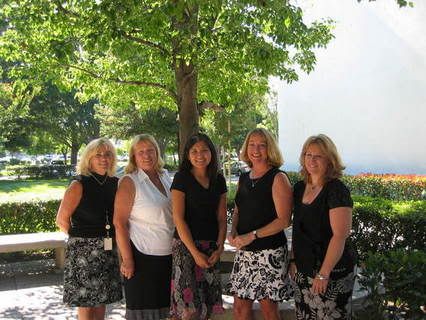 Cindy, Henni, moi, Vicki and Debbie
What a silly thing to do, but it was a nice break from work.
R&R
In a post regarding stress and de-stressing,
Junnie
tagged his readers with the following question:
What are the things you enjoy, even when no one around you wants to go out and play?
Hmmm, a ponderous question indeed. My life has become so routine that I can't exactly tell what I do for pure enjoyment and what I do "just because". I guess what I'm trying to say is I'm not stressed, in general. I tend to do what I want. It helps to have a wonderful husband - one who would put up with a lot of my foibles.
So, here are the things I enjoy, in no particular order.
I love playing the piano. Just two days ago, I got the Stevie Wonder anthology and Earth, Wind and Fire songbooks I ordered from sheetmusicplus.com. I was so excited that even though I was exhausted from a roadtrip to LA, I hurriedly ripped the package and started playing. Nothing like the cool melody of Knocks Me Off My Feet and finally being able to play one of my most-favorite songs, As, to take away the soreness of sitting in the car for too long.
I'm a TV-holic. There, I said it. And the ReplayTV is my pimp who keeps me supplied with my drugs of choice, even in this lean summer season of reruns. Jeopardy, Will & Grace, King of Queens, Judge Judy, Conan, MadTV, Rescue Me, The Daily Show. And yes, I have my guilty pleasures too - Oprah, Big Brother and Cheaters.
I read. Surprisingly, I still have time left to read actual books. Although my current carry-everywhere is What to Expect When You're Expecting, I have about six unfinished books, including Blink, Ellen de Generes, Eats, Shoots and Leaves and Me Talk Pretty One Day. I love reading blogs too. I have yet to find a system to do this faster and more efficiently, I still tend to get lost in links!
I cook. Just kidding.
I play with my family. We swim, play Monopoly, Catchprase, scrabble, the animal game (something we invented) or just goof around. I prefer it if stepson has a friend over so no one's ganging up on someone (the boys tend to pick on me).
I play games like
this
.
In his comments box, he asks further:
What about you? What lowers your stress/blood pressure/anxiety level?
Aside from the above? This weekend, I'm going with my cousins to a spa to luxuriate in a milk bath and an 80-minute pregnancy massage. I think that'll do the trick!
Picnic at Pebble
This is a picture-intensive post so please be patient as they load. (I really need to start using my Flickr)
As a cop-out to writing something meaty at this busy time, I would like to share with you pictures from the 4th of July picnic we attended at the Pebble Beach Country Club with my hubby's family.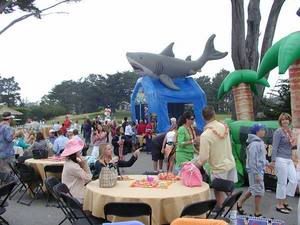 Picnic getting started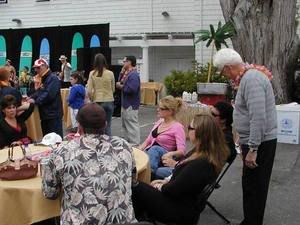 Our family's table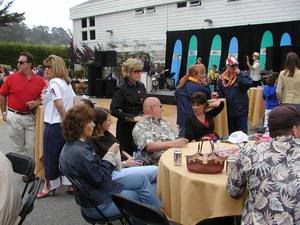 Second half of family table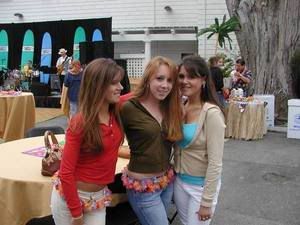 My nieces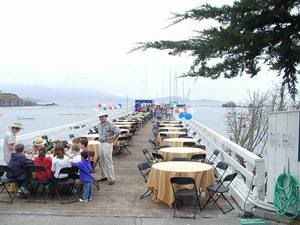 Tables on the dock with the games at the end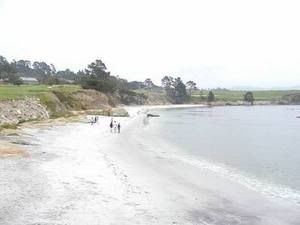 Strollers on the beach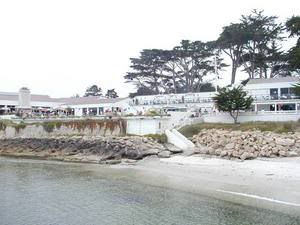 View of the picnic from the beach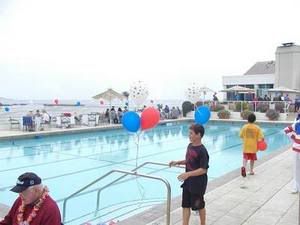 The poolside part of the picnic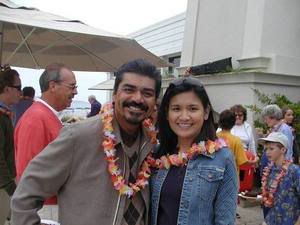 I saw George Lopez (who is my in-laws' neighbor) and I unabashedly asked if he'll pose with me (4 years ago, I ran into Clint Eastwood at the same party, too bad I didn't have a camera then)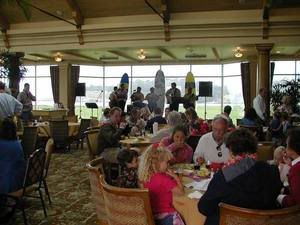 Inside the clubhouse (where usually the older people prefer to stay)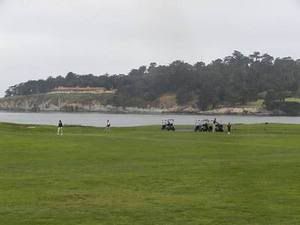 People were still golfing outside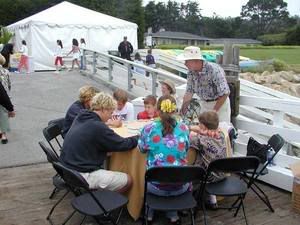 Bingo for kids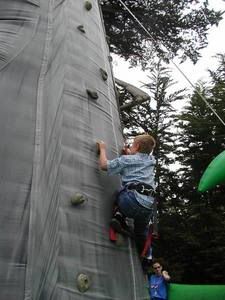 Stepson climbing the dinosaur wall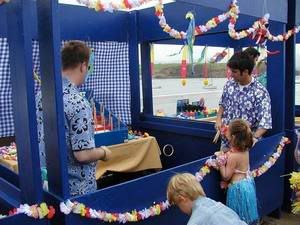 Ring toss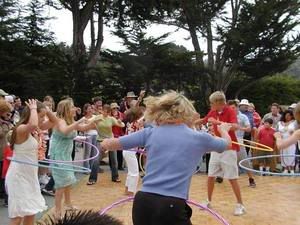 The ever-present hula-hoop contest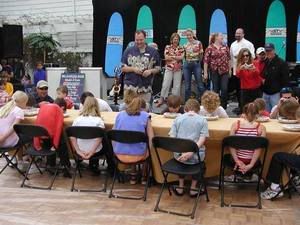 The kids' version of the pie-eating contest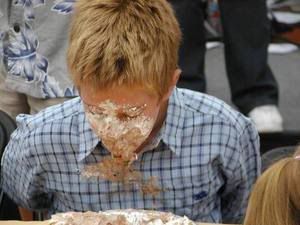 My stepson with pie all over his face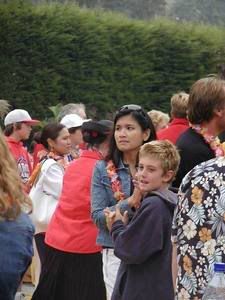 Dancing with my stepson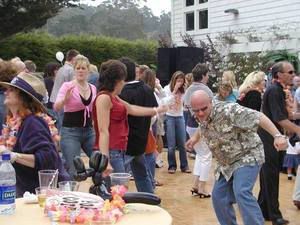 White people trying to dance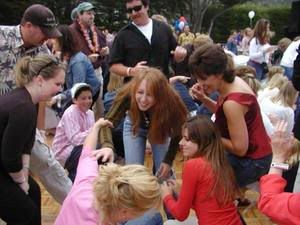 Drunk white people trying to dance (actually my sis-in-law taking the song "Shout" a little too seriously)