Who am I?
S vintage star
S filipina now living in california
S obsessive-compulsive... make that compulsive-obsessive... no, obsessive-compulsive
S cold all the time (literally)

current terror alert level

Why is Life Cold?
i actually have a very happy life. i just saw this graphic one day and got an inspiration for another blog. why not write about the stuff that makes life cold? from the huge, catastrophic, life-altering events to the seemingly trivial, little incidents that rub you the wrong way. it doesn't have to be a personal experience, it can be something observed.
on writing these down, my intent is to learn to appreciate life more and have a better handle on things when life throws you a curve ball. i want whoever will read this to contemplate, not get depressed. hopefully, you'll share with me your experiences as well so we can learn from each other.
p.s. it doesn't always have to be cold
Previous Posts
Archives
Get Cold With Me
Where I Go When I Feel Life Getting Cold
S Memento
S Jo's Forum
S Shai Coggins
S pinayexpat
S joyceline
S piehole (a very funny girl)
S Din's World
S pinayhekmi chronicles
S Linnor
S Tin
S kwentong tambay
S deja brew
S denden
S mushings
S Junkville (never fails)
designed by lonelyger





His Two Moms
About a month back, someone invited me to a dance. Since I knew that this boy already had a date for the dance, I asked him why he was inviting me. He said, "you
have
to be there!"
So, last Friday, I attended my stepson's Mother and Son dance at his school, together with him and his mom. His mom was so excited she wanted the three of us to go out to dinner beforehand. Since the theme of the dance was '50s and we would be in what I would consider costumes, I passed on the dinner. So, she picked us up, posed for some pictures, and hied off to the dance.
As I've said before, my husband's ex-wife and I have a great relationship. With that said, I still take extra care in dealing with things that relate to her son, my stepson, as far as motherhood goes. So, when I saw that invitation from the school about the mother-son dance, I naturally put it back in his backpack to be given to his mom.
What I didn't know (and will find out later on) was that he asked his mom if I could come to the dance with them. His mom said sure, and that he didn't even need to ask. It felt really good hearing about that. So his mom calls me up and we start planning on what to wear.
Since we didn't have poodle skirts (and weren't really
that
crazy over the '50s), we decided on capri's and bomber jackets and ponytails. We both ended up with no jackets (was a warm night), but stuck to the rest of the getup.
When we got there, we posed for more pictures in front of muscle cars, then we just played and danced and laughed and danced some more. One of the dances was a line dance, the kind where the mothers are in one line and the boys are in another, and they pair up dancing down the middle of the lines to Grease tunes. When our turn came we got cheers and catcalls, and some boys were yelling out to my stepson, "Ricky's double-dating!" I look at him, afraid he'll be all embarrassed. Instead he's got this wide smile on his face, and that's when I knew everything's going to be alright.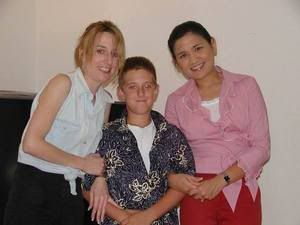 before the dance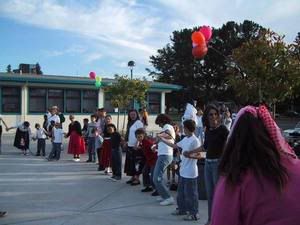 the link game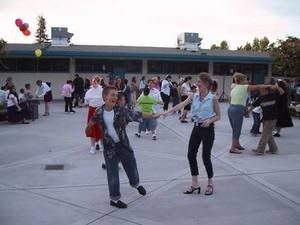 stepson and his mom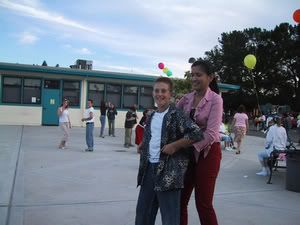 me and stepson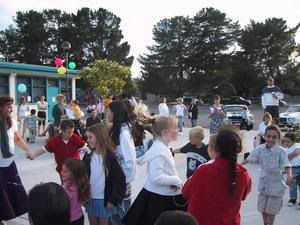 some daughters tagged along
hula hoops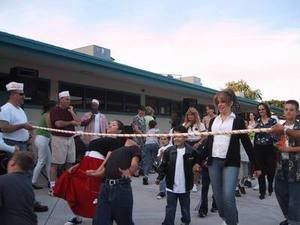 you gotta have the limbo
Semi Starstruck
In one of his conversations,
Junnie
asked:
Have you been around a celebrity/ies? and what was the feeling of seeing someone you just on TV or listened to from CDs? Who was he/she? Were you in awe and star struck?
This reminded me of my brush with minor celebrities, an odd mix of people.
There was that time I posed with Penn:
And of course, when Penn is around, Teller can't be far behind: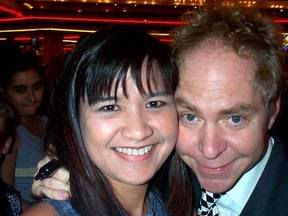 One time, while waiting to check in at the Paris hotel in Las Vegas, this guy approached us and begged if we would buy his Barry Manilow concert tickets for that night, since his date didn't show up. I do like Barry Manilow, and I promised my hubby I'll never tell any of his friends, so we bought the tickets. It turns out it was on the
second freaking row, right smack at the center!
I sneaked these pictures, even though they were so strict with the cameras they were actually asking people who take pictures to leave: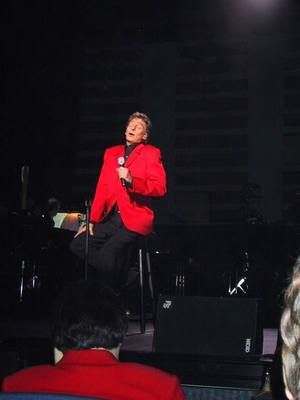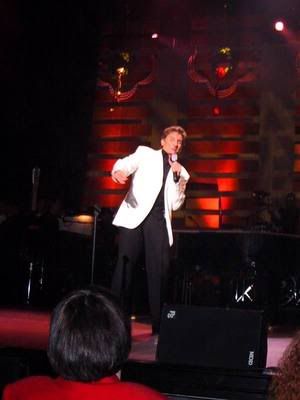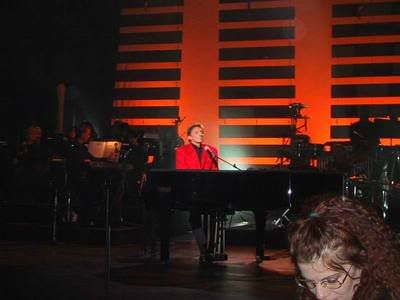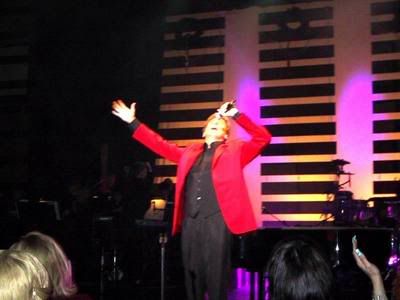 We were so close they wouldn't even consider me for the "Can't Smile Without You" sing along even though I frantically waved - they got this older lady from the sixth row. And she didn't even know the words! Boo.
And while leaving the concert, I saw Olympic figure skater Brian Boitano, and even if I'm a diehard Kurt Browning (Brian's rival) fan, I couldn't resist asking for a shot: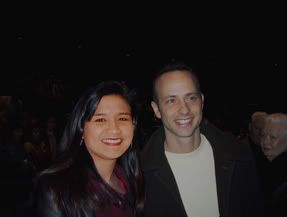 I don't usually take pictures at concerts, but I just had to snap one of (a very minute) Rick Springfield (my biggest childhood crush!) when he was headlining EFX in, where else, Vegas: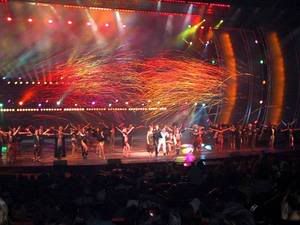 And of Madonna from her Reinvention Tour with my camphone: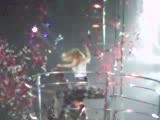 In closing Junnie asked:
nag pa autograph ka ba?
No, I never ask for autographs. I don't see the value in them. I don't think I'll ever whip out an autograph and find joy in it, or show it off to friends. That's why I don't understand why they go for mega bucks in eBay.
I remember when I was younger. My mom worked at the Philippine airport, and she excitedly went home one day giving me a piece of paper with all of the Menudo's autographs on it. I just feigned excitement to make her happy. I don't even know what became of that piece of paper. Too bad, 'cause I'd love to see young Ricky Martin's signature again. Mmmm... Ricky Martin. I wouldn't mind a shot of that!
After The Love is Gone
This should be the last time I write about my work. At least for a while. As you can see from the previous posts, I have had a tumultuous week last week. Half of our department was laid off last Monday (yeah, the day after Mother's Day), as well as half of other divisions at headquarters.

With these recent events, I have made some realizations.

Too much of my life revolves around work. I swear I've been more depressed about the work situation than when something does happen in my personal life. I have had bouts of sadness when I will just start to sob, and my hubby understands and just puts his arms around me without saying a word.

Getting laid off is not always a bad thing. The people who got let go actually got a good severance package. Our company used to have a cap on the payout - 10 weeks. Maybe because the reduction this time is so severe, they waived that cap such that some people who have been with the company 25 years actually got over a year's pay. Since a lot of people also are transitioning out, they were given a 25% increase on their time remaining, which can be as long as six months. So the combination of those two deals equate to an actually sweet package. Too bad my manager wouldn't let me avail of it.

A lot of my friends I have met through work. While I was organizing a "see you later" get together for one of my friends, who will be leaving next week, half of those invited were our friends who are no longer with the company. Man, I need to get out more!

My manager expects too much from me. I don't know if I should get excited for this new challenge (although I've never heard it myself, I've heard from others that she has referred to me as the Junior CIO), or reach for my security blanket and cower in fear. I have found my work very easy and comfortable, but with my resources taken away and I'll have to do the work of three people, I predict many stressful days ahead.

The main cause of our reduction in force is offshoring of functions. They got rid of my staff and I will now have to hire a new team to work in our Philippine office. I came from the Philippines and of course, love working with Filipinos, but I know this will be a challenge for me, especially with the urgent nature of my job and the time difference.

Well, taking from the sappy '80s song in the title, the love is now gone. Due to need, I will be staying on, mechanically doing my job, until I'm blessed one day to find something that I love again.
It's Happening!
At 10:00 this morning, all of the employees were called in for a Town Hall meeting. Our biggest fears have come true - the company is laying off 30% of its employees. What's interesting is they told us before it happened. The individuals are leaving today, they're being called one by one by their managers and those left behind will meet with their departments at the end of the day.

This is weird. I might go any minute. (Note to self: remember to click on that Publish Post button before you go). As expected, nobody's working. Everyone's in small clusters talking about it, yet here I am writing on my blog. Maybe I should get laid off!

I'm trying to brace myself. Although my husband and a lot of my friends have gotten laid off in the past, I have never been so I don't really know what to expect. I know it's going to hurt, but I'm trying to psych myself to see the positive in it. When we were informed of the Town Hall meeting, I even entertained the idea of volunteering in case they ask for some. They didn't do so this time. I guess the die is cast.

And now I wait.
I Need to Lay Off the Caffeine
I initially came here with the intention of posting about the wonderful mother's day I had with my mom and my hubby. Instead, I am compelled to write about something else, something that's been percolating in my mind for the past week.

Now is the only time I can write about it, lay it down in black and white, an experiment of sorts. You see, my workplace is rife with rumors of a major layoff, not the usual one that just gets rid of riff-raff but the kind that impacts all departments, where you lose valuable, hard-working employees, the effect of which will have those left behind reeling for weeks.

I have hinted a couple of times in this blog that I no longer am happy with my job. The truth is, I would like to get laid off so I can go look for another job I will enjoy with the severance package and unemployment temporarily alleviating the stress. I am too comfortable with my current job that I haven't made efforts to look for other employment - I was hoping that something will happen to force me to do so. I'm too chicken to quit my job without another option, yet the cushiness of my current job stops me from looking for other options (What if I make a horrendous mistake? What if I don't adjust well with a new job? What if I hate my new boss?) I now realize the mistake of staying too long in one company, especially in these times where employees no longer work for a single employer all their lives. I have become less marketable such that I have lost faith in my own abilities.

Although my boss and I have a great relationship, and she sometimes asks my opinion on business decisions (like whom I will let go of if I were the CIO, believe it or not), I dare not tell her frankly how I feel now. [To those who know my boss - please don't tell her!] I'm afraid that if I volunteer for a layoff, she will not accept it and just gradually strip me of my responsibilities until other people can do all of my work functions. The farthest I'll go is drop hints, because I am such a coward. Which brings me back to hoping for something to happen that's beyond my control.

Well, that something seems to be in the horizon. I've heard from the grapevine that the layoffs will occur this week. After this week, one of four things will happen:
1. I get laid off, and become so happy that I can now pursue other interests (not likely)
2. I get laid off, and feel horrible, unwanted and dejected but will realize [a long, long time from now] that it was all for the best (more than likely)
3. I don't get laid off, and go on being unhappy but still grateful that I have a job (high probability)
4. No one gets laid off (hey, one can dream)

You wouldn't guess what I'm praying for. (Hint: it's not an even number, and it's greater than 1).
Eat, Drink and Be Moroccan
Last month, I took my husband to a Moroccan restaurant for his birthday. The place was beautiful, with rich tapestries and ornate decor.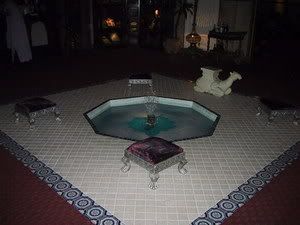 the anteroom to the main dining hall
The food was scrumptious, some of which I found interesting. This is what we had, everything partaken with our bare hands (pictures borrowed from their website, since I was so busy savoring them I forgot to take any):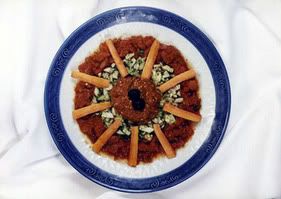 Moroccan Salad for starters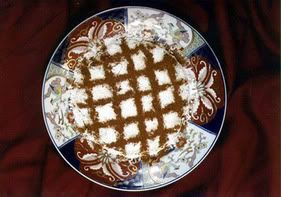 B'stilla - a Chicken and Almond pastry (one of the interesting ones, sweet and spicy at the same time)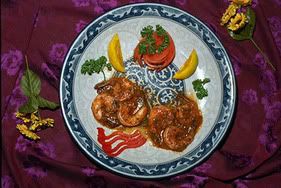 Prawn Chermoula (my favorite!)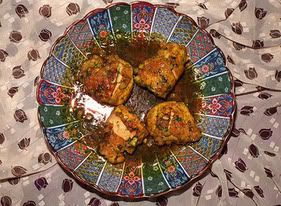 Tajine de Poule aux Apricots (Chicken with Apricots and Raisins, the flavor akin to the Filipino afritada)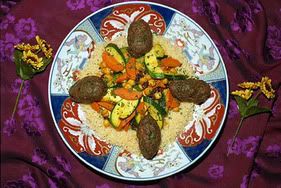 Brochette de Kefta (Lamb Kabob minus the Kabob)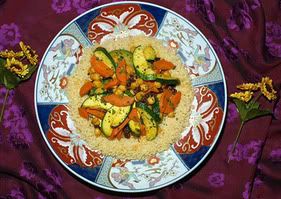 Couscous aux Legumes (You gotta have couscous!)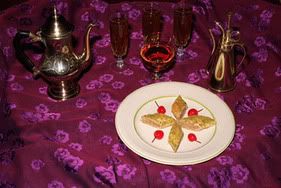 Baklava for Dessert with Mint Tea
During dinner, we were entertained by belly dancers. They were so good and graceful you kinda feel embarrassed stuffing your face with all that food while they strut their lithe, gorgeous bodies.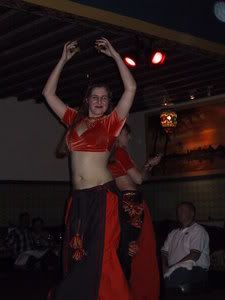 the young 'un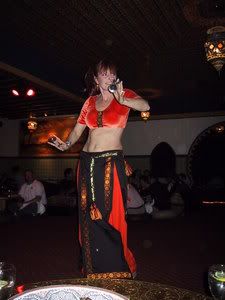 the pretty one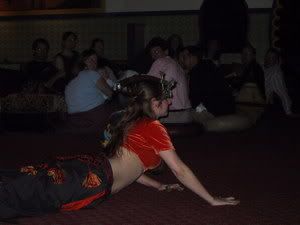 the young one balancing a sword on her head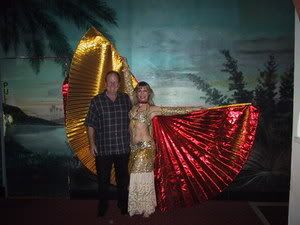 hubby with the star belly dancer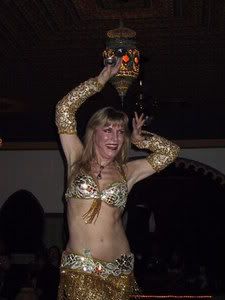 she was really good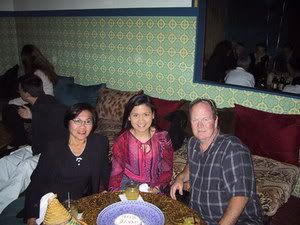 we definitely will be back