As early as three months ago, I have been receiving gifts from friends for my coming baby. These were mostly from former co-workers in the Philippines who sent cute baby stuff to colleagues travelling here.
Twice lately, I have come in to work with a package on my desk. Since it's addressed to me and my husband, not to mention it being wrapped in cute baby wrapper, I can only assume that it's for the baby, so I'll bring it home and open it together with my hubby.
We have purchased most of the basic things that we will need for the baby - crib, dresser, sheets, bassinet, 2 car seats, 2 strollers, swing, high chair, etc. Since my baby shower is coming up, I hurriedly had to put up baby registries. My hubby, who is old-fashioned, doesn't like the idea of signing up for registries. I must admit I felt the same way when I first arrived here in the States, but now I see the practicality of it. When I'm on the other side and the one buying a present, I do like to have a list of things to choose so I'm sure I'm giving something needed and not a duplicate. So, I promised to him that I will pick simple and not extravagant stuff. Pretty soon he was helping me choose items, starting to get excited with all the cuteness.
The day after I put up my baby registry, I was surprised to see that three items have been bought from it already, and the invitations to my baby shower haven't even been sent! I started panicking because I haven't really given it much thought and just picked items that other gift registrants seemed to like. The amount of choices is overwhelming! In any case, it's so heartwarming to think that someone's thinking of my baby without being reminded.
Last night, I received this in the mail from my brother-in-law in Boise: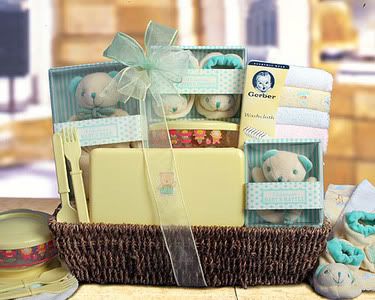 Again, I was touched with the thought. To friends reading this, please don't take this post as an attempt to solicit a gift :) I would honestly prefer prayers for a healthy baby and safe (and as painless as possible!) delivery of my very own gift.