Who am I?
S vintage star
S filipina now living in california
S obsessive-compulsive... make that compulsive-obsessive... no, obsessive-compulsive
S cold all the time (literally)

current terror alert level

Why is Life Cold?
i actually have a very happy life. i just saw this graphic one day and got an inspiration for another blog. why not write about the stuff that makes life cold? from the huge, catastrophic, life-altering events to the seemingly trivial, little incidents that rub you the wrong way. it doesn't have to be a personal experience, it can be something observed.
on writing these down, my intent is to learn to appreciate life more and have a better handle on things when life throws you a curve ball. i want whoever will read this to contemplate, not get depressed. hopefully, you'll share with me your experiences as well so we can learn from each other.
p.s. it doesn't always have to be cold
Previous Posts
Archives
Get Cold With Me
Where I Go When I Feel Life Getting Cold
S Memento
S Jo's Forum
S Shai Coggins
S pinayexpat
S joyceline
S piehole (a very funny girl)
S Din's World
S pinayhekmi chronicles
S Linnor
S Tin
S kwentong tambay
S deja brew
S denden
S mushings
S Junkville (never fails)
designed by lonelyger





Happy Halloween!
Last Friday, our company celebrated Halloween with a BBQ feast, costume contest and pumpkin-carving contest.
I didn't dress up this time, because I didn't feel like it. My husband suggested I come as a nun (we have matching priest and nun outfits), which would actually be cute because of my pregnant self, but I was afraid to raise some eyebrows. I just partook in the tri-tip, lots of yummy salads and treats during lunch. I also posed with the General Manager of our Philippine plant who was visiting and my boss (who'll be leaving in a week, sob):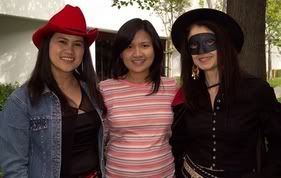 That's me looking all puffy at 27 weeks, with two of my mentors.
This was my favorite pumpkin, although it didn't win (we suspect the judging was fixed):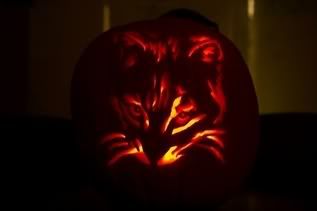 Kattie who did this kitty took five hours to carve this work of art.
Too bad my stepson got braces this year and cannot have candy, and is therefore not going trick or treating tonight. I always benefit from his loot :)
Happy halloween everyone! May you get all the candy you like! (I'll have to make do with any leftovers we get from the candy we're giving out tonight)