That are not so good for you.
Last week, our company had visitors from our manufacturing plant in the Philippines. Now everytime someone visits from there, I get excited because of the stories from back home, the chance to speak straight Tagalog to someone again, the excuse to take them to the wonderful places in the Bay Area and the inevitable
pasalubongs
(gifts from the homeland).
This time around, I wasn't that excited because the visitors were three young Engineers whom I've never met before and, since they were male and there's three of them, I just surmised that they wouldn't want to hang out with an "older"
kabayan
(compatriot) and prefer to be by themselves. However, when they gave me the pasalubongs from my friends in our Philippine office, I was blown away.
Here's what they brought me: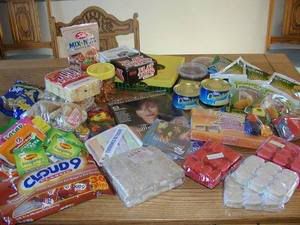 To enumerate:
Conti's ensaymada
Tobi mix nuts
Flat tops
Prima toast
Pili nuts
Cloud 9 (made me smile!)
2 bags of chicharon (my favorite!)
cans of Kraft cheddar
Conti's food for the Gods
banana chips
Conti's and Goldilocks polvoron
more polvoron
Filipino CDs
Haw flakes (haw haw haw!)
ampaw
assorted cooking mixes (hmmm, they know me too well)
turrones de casuy
The girls of FHM magazine
little boxes of tamarind
dilis
knitted purse
bracelets
tops from Folded and Hung and Kamiseta
and of course, packets and packets of dried mango
I could open a Filipino store - one with a weird mix of merchandise. I've been giving some away to friends (except for the chicharon, hee hee) but there's more. If you fancy any of it, just let me know (except for the FHM magazine, which my hubby has sequestered).
What's your favorite pasalubong from back home?