Here's a picture of my palm: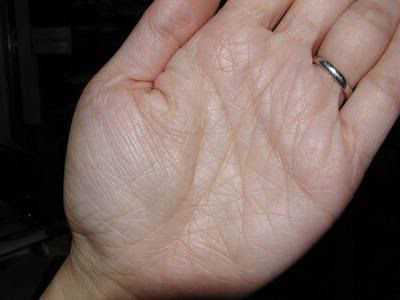 Have you ever seen so many lines on anybody's palm? No, it's not because I'm old, or getting older. I have had all these lines since I was a baby (or so I was told). This unusual amount of lines has caused me to be self-conscious to show my palm to anybody growing up. In school, I was horrified whenever it was my turn to lead the
Panatang Makabayan
(Pledge of Allegiance), because that meant standing in front of the class holding my line-ridden palm up for everyone to gawk at! I missed out on playing
Sawsaw sa Suka
, a childhood game where your friends continuously dip their fingers on your outstretched palm while chanting a song, and you try to catch someone's finger at the end of the song.
Later on, I would be so hesitant to hold hands with a boyfriend, even though the few I've had found my wrinkly palms cute (or so I was told). Friends and relatives are only too eager to offer theories on what all these lines mean - I have a complicated life (I don't think I do), I have a lot on my mind (I don't think I do), I have had so many lives and somehow St. Peter forgot to erase the lines through time (I think I've seen that in a movie before).
So far, I've only met one other person with a similar palm (although he had less lines), on a plane, but I've forgotten who he was. All I remember is how happy we both were at discovering this rare commonality. Surprisingly, I was also disappointed to find my claim to the one unique thing I had in this world has been invalidated.
In any case, I'm stuck with these lines, whatever they mean, and I've grown accustomed to them. I stretch my palm out when needed without giving it a thought. Hey, I'm so comfortable I've even taught my stepson
Sawsaw sa Suka
so he could play it with his friends and also play it with him and hubby once in a while.
Dip it in vinegar, whoever's caught is it!