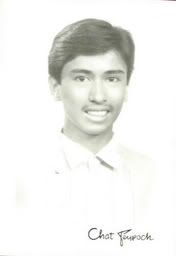 I don't remember when I met Junnie, but I'm pretty sure it was in the 6C classroom in DLSZ. Over the years, I got to know him really well, especially since we were classmates from then on until Junior year in high school, plus schoolmates at DLSU.
Junnie is funny. Junnie was the class clown, and his jokes make you think. I remember one time when he pulled a prank on our Sophomore class. We had our names stenciled on scotch tape at the front of our seats. One morning we came to class with some of the names changed to something funny (e.g. Norman Maglasang was changed to Norman Maglasing [to get drunk]). The whole thing was so funny that even those maligned didn't take offense, and while our teacher tried to keep a straight face in asking who did it, we could tell she was ready to burst in laughter. Cleverly, Junnie also changed his name from Junnie Arreza to Junnie Arrest to divert suspicion away from him. I don't think our teacher ever found out who did it.
Junnie is intelligent. He's always at the top of the class, and was a representative of our class in many, many contests (except maybe the singing contests).
Junnie is a natural leader. He was our class president year after year. Every election time, it was a given that Junnie will be class president, such that everyone else just ran for the other positions. He led us well. Whether in glory or in shenanigans, our class was always united and we knew we got his back, as he did ours.
Junnie is creative. His mirror signature, his font-like handwriting, his outstanding art projects, his funny haiku... the list is endless. My brother whom he used to work with once told me a story on how he encountered some trouble with embassy officials because they thought the signature on his passport was counterfeit - it was too perfect and every instance of it was exactly the same as the others!
Junnie is well-rounded. Although a southpaw, he is a perfect blend of right and left brain, excelling in anything he delves into - academics, the arts, sports.
Junnie is a great friend. He is one of the few "boys" that I used to chat on the phone with for hours. He's a great listener, and his advice is priceless. He's very considerate, not just to you but to all the parties involved. He's very thoughtful, even though we've lost touch he still remembers my birthday.
Above all this, Junnie is a wonderful husband, son, brother, uncle and Christian. Although I haven't seen him in years, I see this everyday in his blog, his pictures, his emails, his comments.
Happy birthday Junnie! For you and Mitzi, I pray for the gift of becoming parents soon. I'm sure you'll be wonderful at it.
exactly 10 years after our high school graduation
the boys didn't see it coming
the original gwapings
even then, the omnipresent camera in his hands (hi Mitzi!)