Who am I?
S vintage star
S filipina now living in california
S obsessive-compulsive... make that compulsive-obsessive... no, obsessive-compulsive
S cold all the time (literally)

current terror alert level

Why is Life Cold?
i actually have a very happy life. i just saw this graphic one day and got an inspiration for another blog. why not write about the stuff that makes life cold? from the huge, catastrophic, life-altering events to the seemingly trivial, little incidents that rub you the wrong way. it doesn't have to be a personal experience, it can be something observed.
on writing these down, my intent is to learn to appreciate life more and have a better handle on things when life throws you a curve ball. i want whoever will read this to contemplate, not get depressed. hopefully, you'll share with me your experiences as well so we can learn from each other.
p.s. it doesn't always have to be cold
Previous Posts
Archives
Get Cold With Me
Where I Go When I Feel Life Getting Cold
S Memento
S Jo's Forum
S Shai Coggins
S pinayexpat
S joyceline
S piehole (a very funny girl)
S Din's World
S pinayhekmi chronicles
S Linnor
S Tin
S kwentong tambay
S deja brew
S denden
S mushings
S Junkville (never fails)
designed by lonelyger





Oops He Did It Again
Despite our pact not to give each other a Valentine's present this year, my husband still gave me one. I know, I know, I should consider myself lucky for having a thoughtful (or some would say, sneaky) husband. Unfortunately, as with gifts past, it's something I am not particularly thrilled with. I don't know what to do with it, nor would I know where to put it.
Honestly ladies, what would you do with a swarovski crystal rose?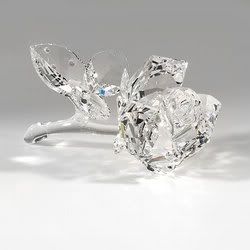 My hubby and I have gotten to a point where we are totally honest with each other, such that we let the other know when we didn't like what the other got for us. I have been very truthful sometimes (consequently, very mean) and I would blatantly ask, "Do you have the receipt for this?" This time, although I didn't like the crystal, I put on my best smile and said my most gracious thank yous. He still saw through me and said "Sometimes, the best gifts are those you absolutely have no need for." I know this is supposed to be symbolic and sweet, but I wish he gave me Chanel sunglasses instead.
I know, I know, I'm a cold, materialistic rhymes-with-witch. J