Who am I?
S vintage star
S filipina now living in california
S obsessive-compulsive... make that compulsive-obsessive... no, obsessive-compulsive
S cold all the time (literally)

current terror alert level

Why is Life Cold?
i actually have a very happy life. i just saw this graphic one day and got an inspiration for another blog. why not write about the stuff that makes life cold? from the huge, catastrophic, life-altering events to the seemingly trivial, little incidents that rub you the wrong way. it doesn't have to be a personal experience, it can be something observed.
on writing these down, my intent is to learn to appreciate life more and have a better handle on things when life throws you a curve ball. i want whoever will read this to contemplate, not get depressed. hopefully, you'll share with me your experiences as well so we can learn from each other.
p.s. it doesn't always have to be cold
Previous Posts
Archives
Get Cold With Me
Where I Go When I Feel Life Getting Cold
S Memento
S Jo's Forum
S Shai Coggins
S pinayexpat
S joyceline
S piehole (a very funny girl)
S Din's World
S pinayhekmi chronicles
S Linnor
S Tin
S kwentong tambay
S deja brew
S denden
S mushings
S Junkville (never fails)
designed by lonelyger





The Difference Between BMWs and Porcupines
Yesterday morning, I found this outside our house: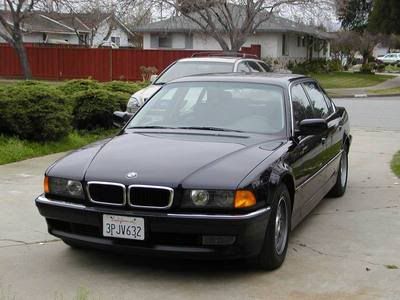 My father-in-law decided to give us his old BMW 740iL. What's funny is that it is he who was celebrating his birthday yesterday. He and my mother-in-law just left this car outside our house and didn't even wake us up. Of course we appreciate this generous gesture but we're baffled. My husband thinks it's because I told his dad how much I loved his Mercedes SL500 at one time. So I replied "Then why didn't he give us that instead?"
Kidding aside, I love cars, but I'm not a fan of BMWs. Probably sensing this, my "new" beemer gave me a flat tire the first time I drove it last night. Good thing my hubby was with me - he had the privilege of changing it. I must say, its got pretty cool tools though. And the spare tire was a full-sized Michelin. Sweet! Plus this thing is so huge that the backseats have footrests.
My in-laws are downsizing, literally. They bought a smaller car and are giving away or selling their big cars, except for their big-butt SUV. They're also selling their house and moving into a condo. Too bad because we've grown to love that house. I wonder what could've happened if I told them "I love your house! (read: any chance of you giving it to us?)"
It's funny how all our lives we amass and amass, only to dispense and distribute later on.
Or maybe it's sad.