Who am I?
S vintage star
S filipina now living in california
S obsessive-compulsive... make that compulsive-obsessive... no, obsessive-compulsive
S cold all the time (literally)

current terror alert level

Why is Life Cold?
i actually have a very happy life. i just saw this graphic one day and got an inspiration for another blog. why not write about the stuff that makes life cold? from the huge, catastrophic, life-altering events to the seemingly trivial, little incidents that rub you the wrong way. it doesn't have to be a personal experience, it can be something observed.
on writing these down, my intent is to learn to appreciate life more and have a better handle on things when life throws you a curve ball. i want whoever will read this to contemplate, not get depressed. hopefully, you'll share with me your experiences as well so we can learn from each other.
p.s. it doesn't always have to be cold
Previous Posts
Archives
Get Cold With Me
Where I Go When I Feel Life Getting Cold
S Memento
S Jo's Forum
S Shai Coggins
S pinayexpat
S joyceline
S piehole (a very funny girl)
S Din's World
S pinayhekmi chronicles
S Linnor
S Tin
S kwentong tambay
S deja brew
S denden
S mushings
S Junkville (never fails)
designed by lonelyger





Sugar + Caffeine = Work Longer
Last Wednesday, I created my
43 things
on
43things.com
, which was referred to me by
Junnie
. It's a neat site where you can list down your goals, with the presumption that writing them down makes it easier to achieve them. What I like most about the site is that you can see how others have completed the same goals, and they tell you how they did so. Some courageous ones even offer to help, so you can ask them any question on a particular goal. A cute touch is that the community can cheer each other on specific goals.
Okay, so I tried to be SMART (Specific, Measurable, Achievable, Realistic and Time-based) with my goals. Some items on my list are
lose weight
,
drink more water
and
get in shape
. Pretty simple right?
I just have one problem. Our Facilities Manager at work sent an announcement today that from now on, our company will be providing free snacks and beverage for all employees, including chai teas and espressos from Peets and Starbucks. Sure enough, when I sauntered to the cafeteria, this is what greets me (pardon the grainy pictures, taken with a phonecam):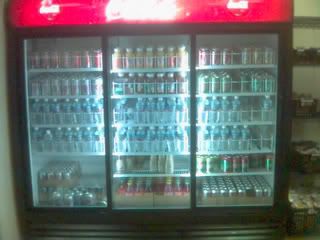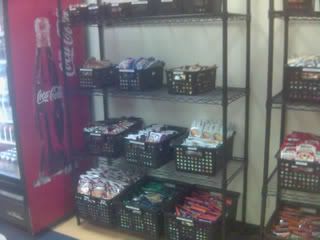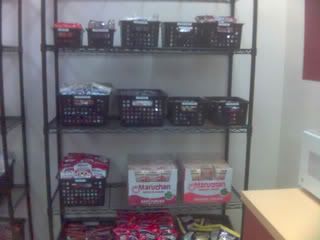 And my personal favorites: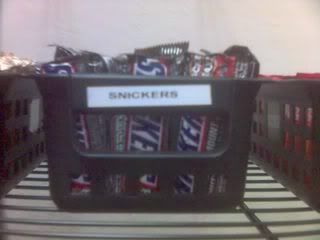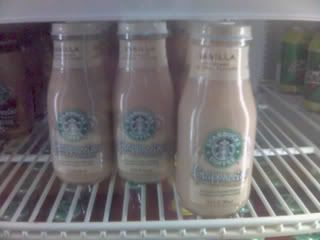 Damn you workplace <
fists waving in the air
>! Why oh why must you taunt me?!?!