A few weeks ago, I joined my cousins and their cousins for a girl's day/night out. They do this regularly and this is my first time to join them. We started the outing with various treatments at the Burke Williams spa in Santana Row. I had a milk bath and an 80-minute pregnancy massage. The milk bath was nothing special but the massage was wonderful. I was falling asleep when suddenly I hear the chimes signalling the end of the session. Darn.
At around 1 pm everyone has finished their treatments, showered and primped, and we took this picture at the lounge area of the spa: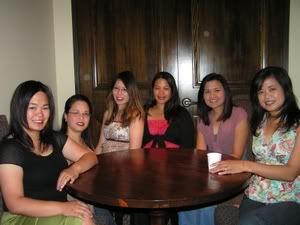 Do we look refreshed?
Next we had lunch at The Village Cafe, where everyone tried to eat healthy (I had a calamari salad) but cannot resist the garlic fries. Since all the other girls were either new moms, pregnant or both, I had a great time hearing stories and tips on what to expect from pregnancy and babies! Before we knew it it was almost 3 pm and we had dinner reservations at 6!
We strolled for a bit, checked out a couple of shops and then settled into their room at Hotel Valencia, still in Santana Row (four of the girls were spending the night there). We talked about everything - babies (of course!), in-laws, blogs, TomKat, Brangelina, Aerobeds and more. I love catching up with their respective families since I don't always see them. Pretty soon it was time to go to our dinner so we headed out.
Dinner was at a Vietnamese restaurant called Tamarine in Palo Alto. I realized why the girls have been so excited for it - the food was excellent! (If you visit me here I will take you there!) We ordered just about all of their small plates, and spent the next couple of hours savoring the tasty and lavishly-prepared food. Although it seemed that we ordered too much, we practically finished most of the plates. Afterwards we ordered all of their desserts, most of which were so exotic and I haven't seen before. After tasting everything, we picked our favorites and were amused at how the pregnant ladies opted for the same thing which the others didn't really care for.
Outside the restaurant we took more shots:
And the pregnant ladies: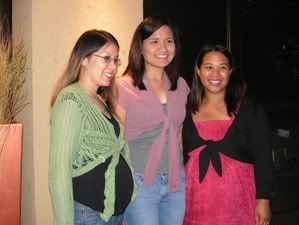 That was an awesome day! Too bad I wouldn't be able to join them at the hotel (I promised my hubby I'd be home), for I'm sure there was more fun and laughter in store. I'm looking forward to the next girl's day out!